This is a sponsored article about a brand that was independently assessed by our rigorous ratings system. We're proud to only collaborate with "Good" and "Great" rated brands. Learn more.
As we head into winter in the northern hemisphere, staying warm, cosy, and dry while still looking stylish is the name of the game. If you're wondering how to do it more sustainably, look no further than these curated looks by "Great" brand Mila.Vert.
Mindful minimalism with Mila.Vert
If timeless and minimal womenswear is your bag, meet Mila.Vert. The Slovenian brand has been creating high-quality, elegant clothing since 2015, with founder Tina Logar Bauchmüller always highlighting the importance of following your passion and being kind to yourself and others.
In line with this ethos, the brand gets our top score of "Great" for its efforts for people, the planet, and animals. It manufactures its pieces locally from lower-impact fabrics like GOTS certified organic cotton and recycled wool, and ensures payment of a living wage in the final stage of production.
With our transparent made-to-order production and zero-stock policy, your conscious favourites are made just for you, saving precious material and energy resources along the way.
If you're on the lookout for classic and flattering autumn and winter styles to see you through this season and many to come or even to gift to a lucky loved one, you'll love Mila.Vert's curated cold weather outfits below. Including a 100% recycled fibre overcoat, soft organic cotton knitted sweaters and trousers, and a cosy knitted turtleneck dress, there is something for everyone.
Cold weather outfit ideas from Mila.Vert's timeless collections
Timeless trench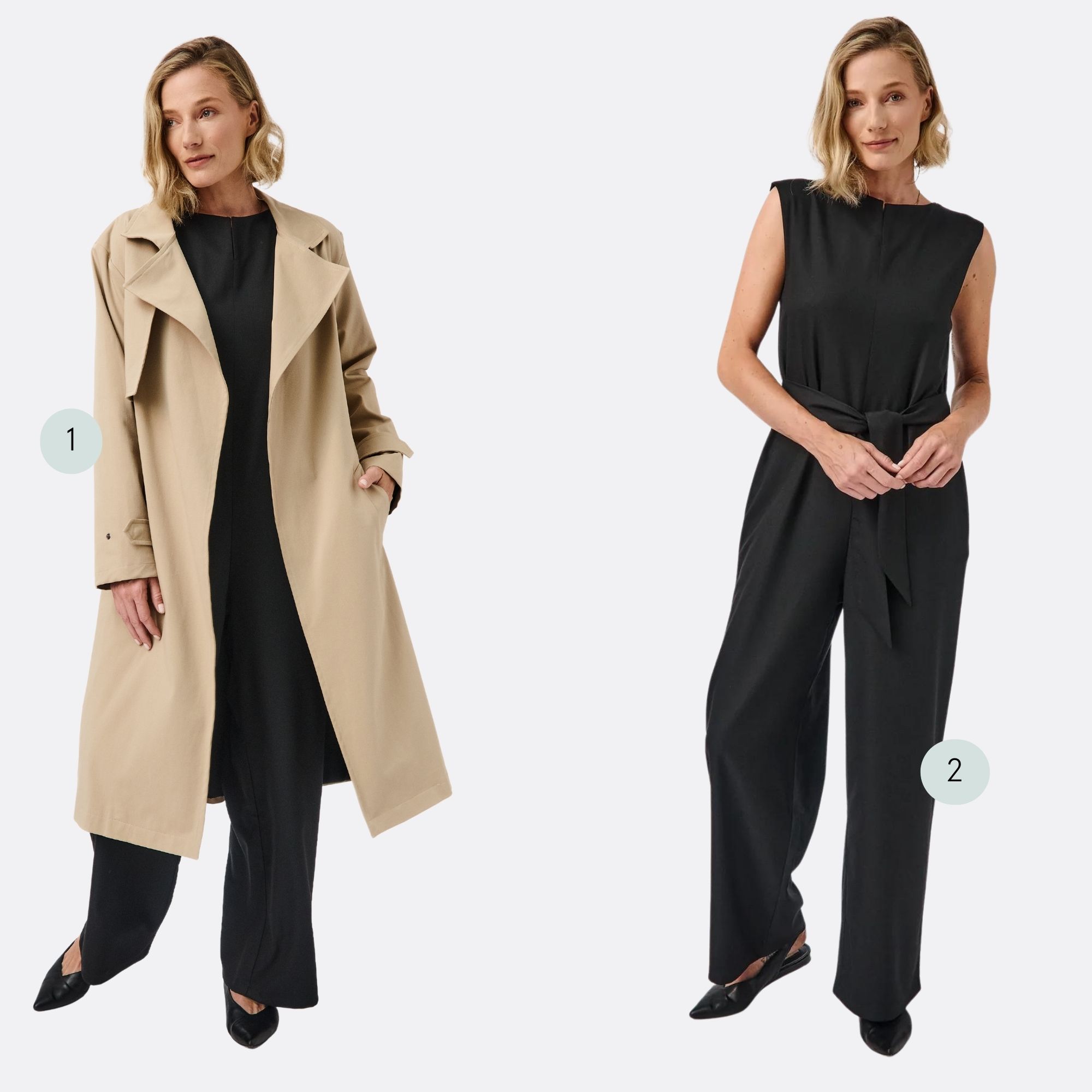 1. Water-Resistant Classic Trench Coat 2. Belted Sleeveless Jumpsuit
Mila.Vert's classic trench coat is a true minimalist icon. Made from a water-resistant organic cotton outer and a silky TENCEL™ lining, this cold weather staple pairs perfectly with just about anything, but our editors love the look with the belted sleeveless jumpsuit in black.
Cosy turtleneck dress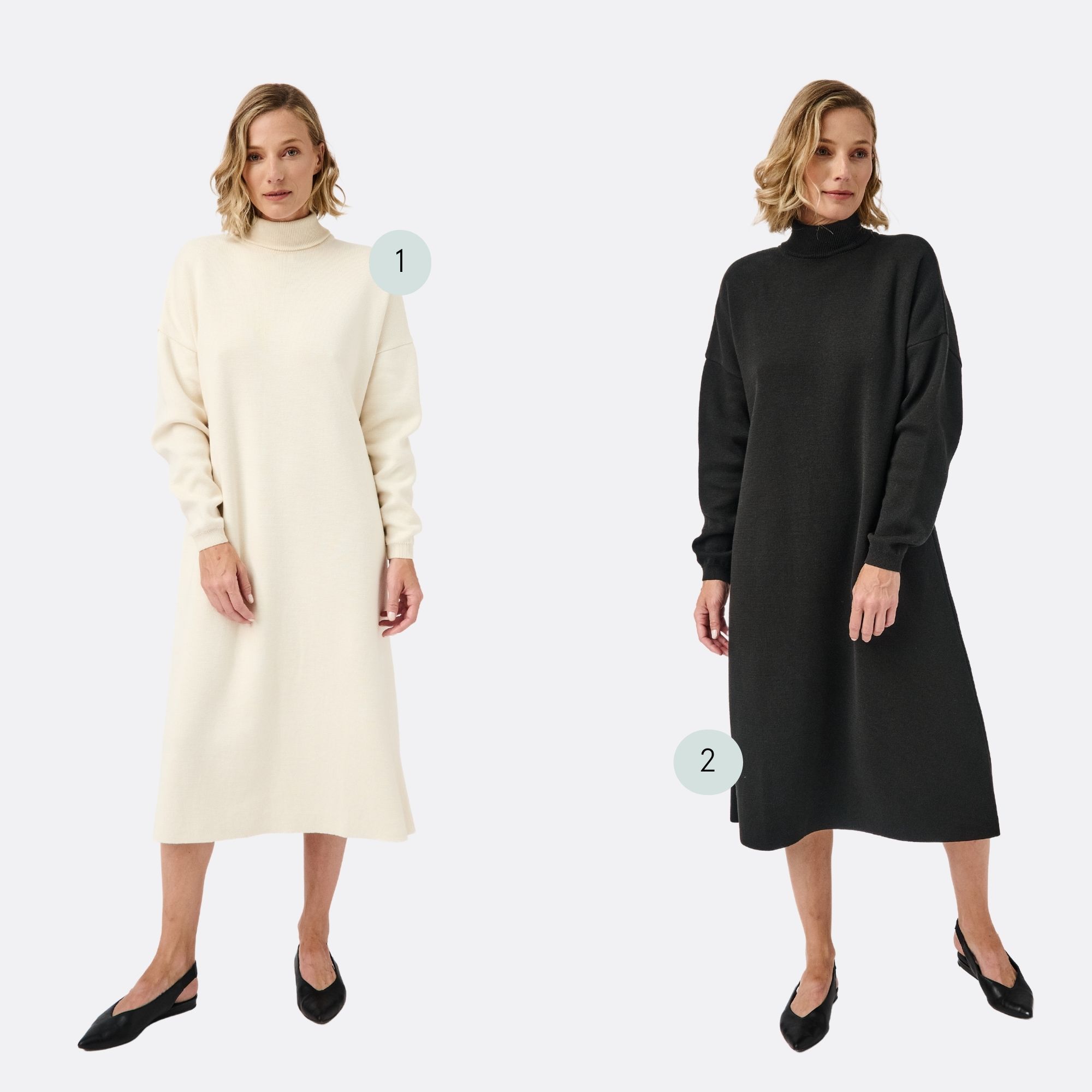 1. Knitted Turtleneck Dress in Cream 2. Knitted Turtleneck Dress in Black
If you love dresses and hate saying goodbye to them when cold weather rolls around, this knitted turtleneck by Mila.Vert may be your new favourite. Locally-made from 100% organic cotton, the dress has a flowy, relaxed fit and would pair perfectly with tights and boots, flats, or heels depending on the weather.
Sweater weather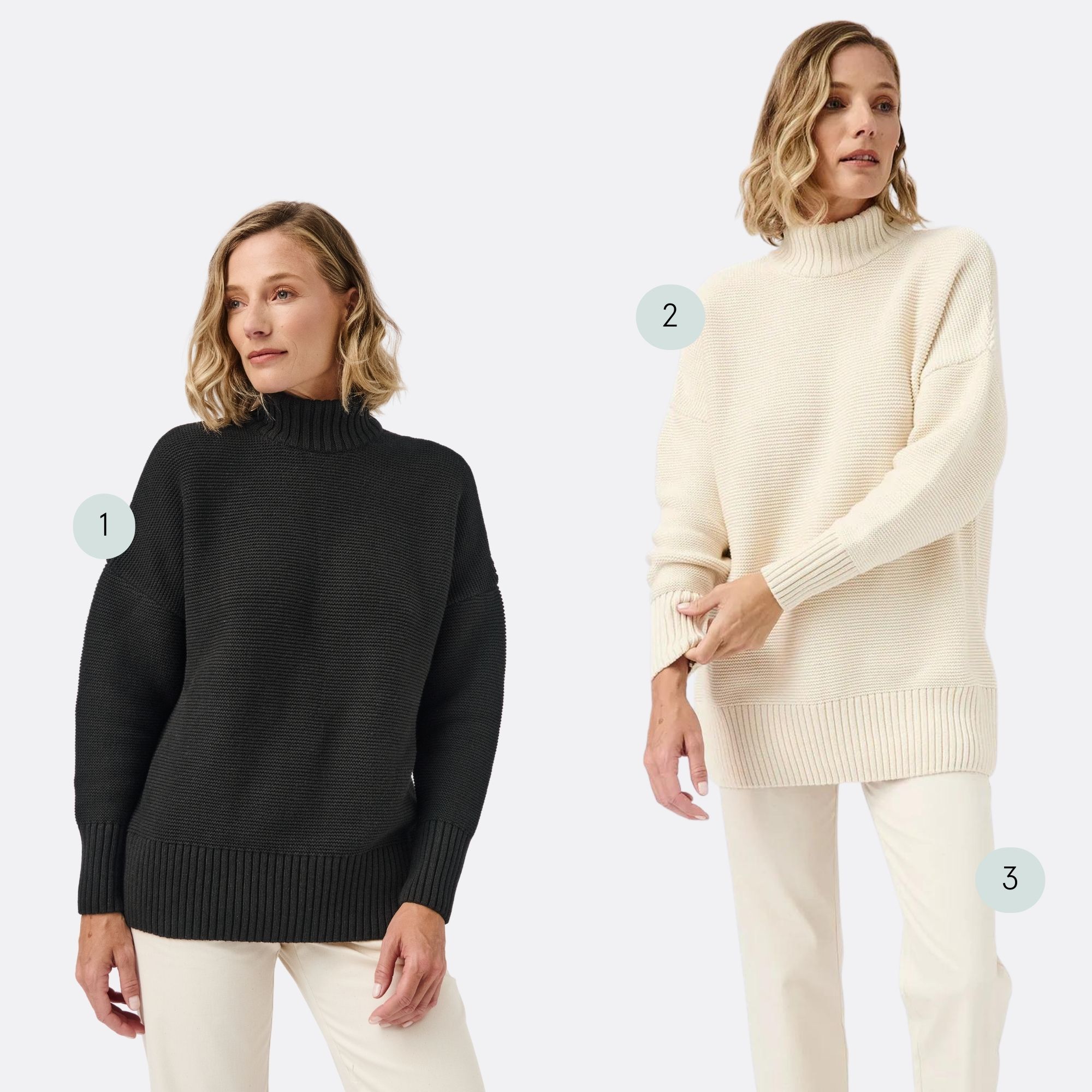 1. Knitted Long Pullover in Black 2. Knitted Long Pullover in Cream 3. Front Detail Long Trousers
A thick knitted high neck pullover is a staple for the colder months, and this organic cotton one in cream or black paired with the elastic waist trousers makes for the perfect holiday lunch outfit.
Matching knits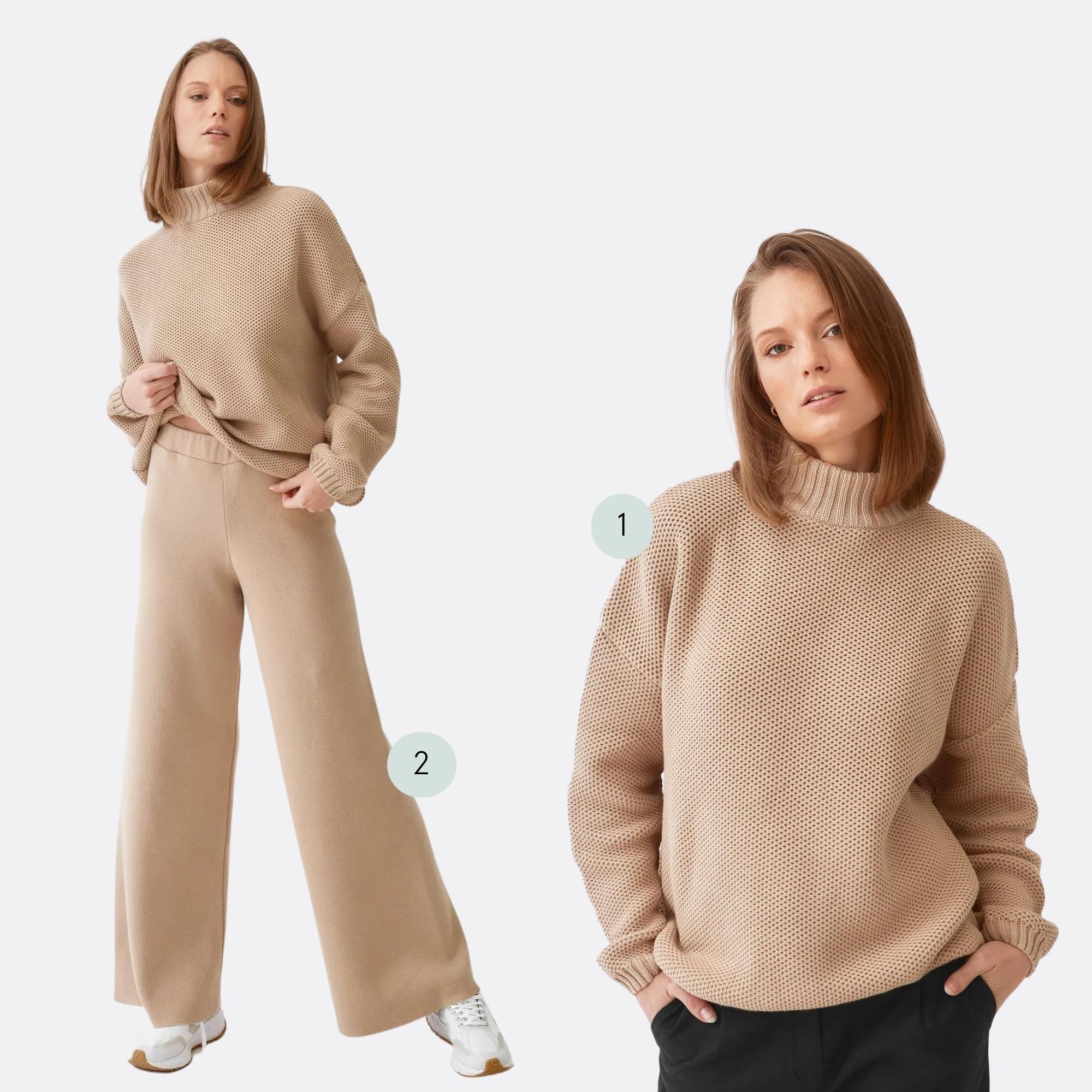 1. Knitted Honeycomb Pullover 2. Knitted Long Trousers
Matching sets are perfect for lounging around the house or your local cafe when temperatures outside dip low. This cosy sweater and trouser combo comes in a gorgeous sand colour that is flattering on everyone, and both pieces are carefully crafted in organic cotton.
Rugged up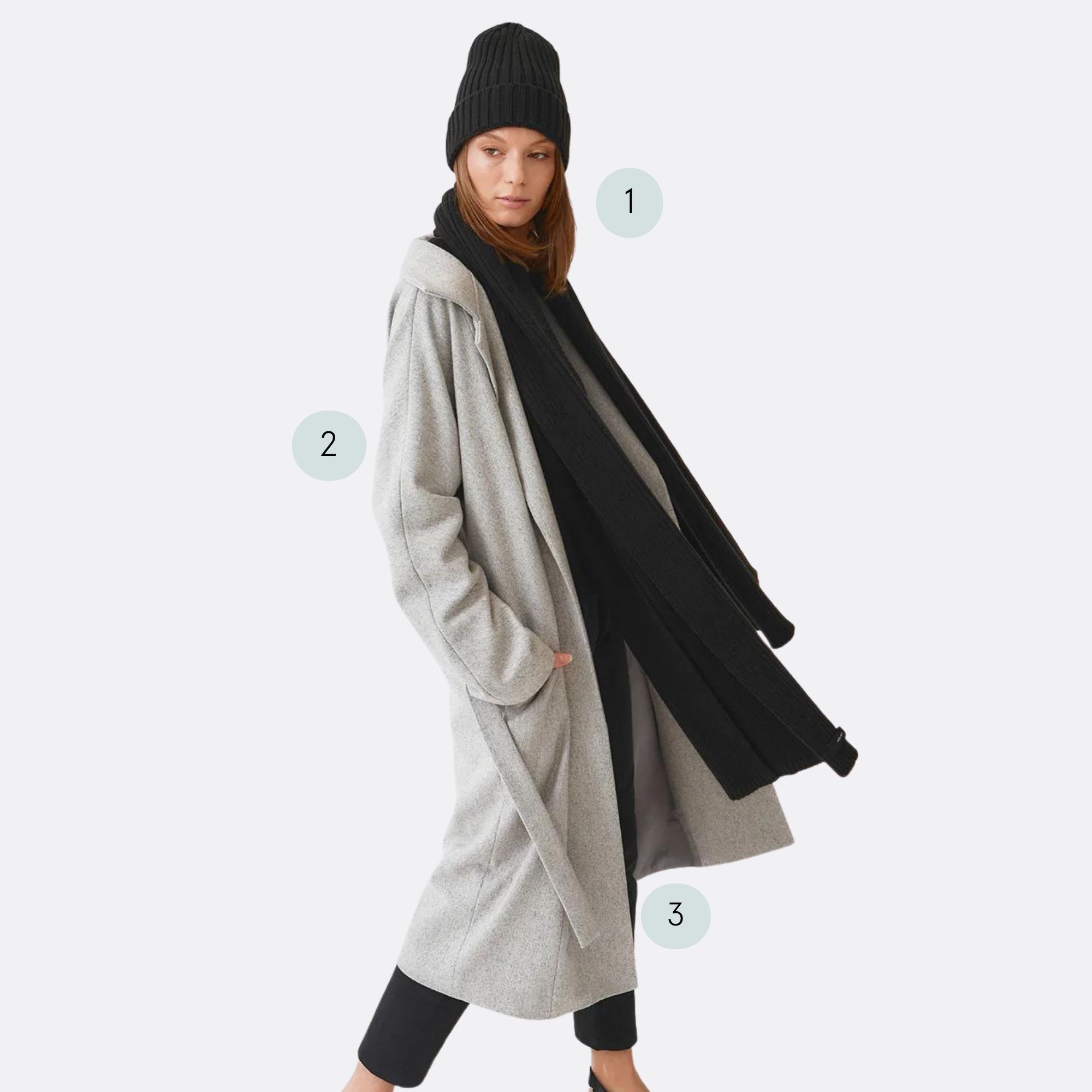 1. Knitted Ribbed Hat & Ribbed Scarf Set 2. Oversized Standing Collar Coat 3. Straight Twill Trousers
Fight the cold weather blues with this comfy outfit, featuring the black knitted ribbed beanie and scarf set, the stunning oversized coat made from recycled wool, and the classic black twill trousers.