There are dozens of casual ethical clothing brands, but finding a brand that's suitable for the boardroom is a little trickier.  Enter Berlin-based Citizen's Mark, which began with a collection of beautifully cut blazers that redefine power dressing as both empowering and ethical. We ask CEO & Founder Cynthia Salim how Citizen's Mark began, and where the label is going next.
I was walking down the halls of the United Nations with shirts that didn't stay tucked in and blazers with sleeve buttons that jingled. Why wasn't there an ethical fashion brand that designs for the professional, credible woman?

Cynthia Salim
The idea for Citizen's Mark came when Cynthia Salim was 23 and working in in human rights in Switzerland. The former labor rights activist was struggling to find well-made, ethical workwear and realised there was a gaping hole in the market. In 2011, Salim set out to create a sustainable brand that surpasses trends and promotes a more ethical way of consuming.
Citizen's Mark launched with its signature blazer. It comes in various styles that are elegant, flattering and made with 100% Italian wool, lined with 100% cupro – a product made from the lining of cotton seed, that used to be thought of as waste. Each garment is responsibly made in Portugal. Citizen's Mark's suppliers are "industry leaders" in both social and environmental responsibility, with a factory that is 30% solar powered and provides living wages for its employees.
While putting the collection together, Salim had an epiphany about women's workwear.  While there were many brands making timeless, high-quality business suits for men, workwear for women tended to be cheaper and trendier – meaning shoppers would buy more and more often.  Not only that, but when Salim tried to source materials she was asked if she wanted 'mens' or 'womens' fabrics – with the best reserved for menswear. Even the best machines, which produced the highest-quality garments were considered to be for menswear only.  Salim was determined that quality comes first – so all of Citizen's Marks blazers are made from 'mens' fabrics on 'mens' machines.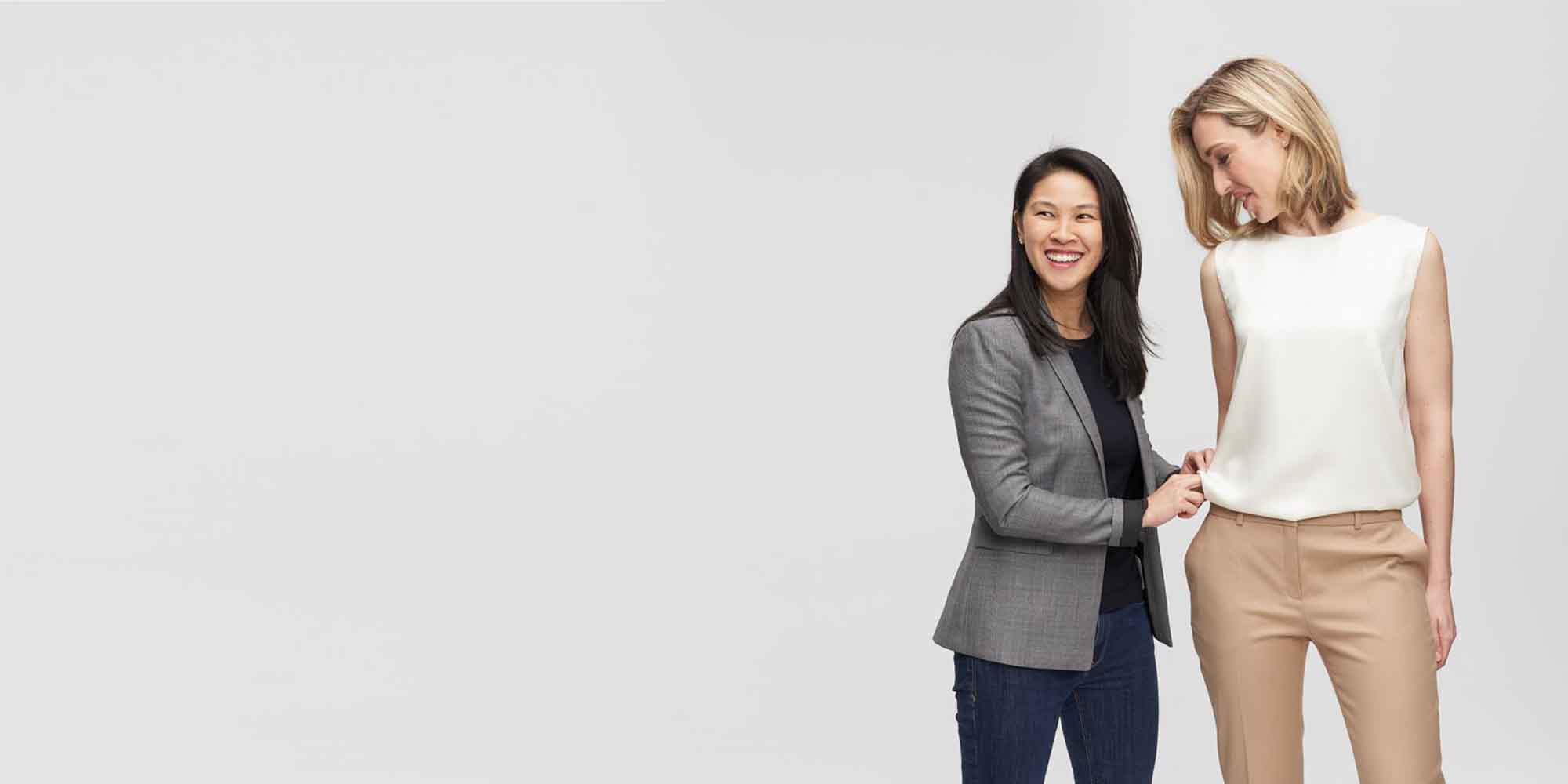 At $475 US, the blazers are also in the price range of quality menswear.  "Citizen's Mark pieces are designed to last," Salim says. "They're designed to outlast seasons, trends, and churn. We don't focus on the traditional retail metrics that encourage things to go out of style or fall apart so you buy a new one. We made the one black Italian wool blazer that will last an entire phase of your career. Every piece we make vies to be your closet MVP."
Pre-order Better Than Silk blouses on Kickstarter at 40% off. Free worldwide shipping for the first 300 customers.
We're a generation that thinks about how our actions help shape the kind of world we want to live in

Cynthia Salim
With their blazers making headlines, the next boardroom staple Salim turned her attention to was the classic blouse.  Again, the need for simplicity, elegance and credibility as well as sustainability was front of mind. "Every time I saw a beautiful blouse, I'd find a split in the back or a bright gold zipper," she says.
Almost by accident Citizen's Mark went on a year-long mission to find the perfect material for their blouses. The result is the Better Than Silk range, which is just about to launch. There are two designs – a sleeveless shell to go under a blazer and an elegant long-sleeved blouse with a high neckline.
The Better Than Silk blouses came out of my need for clean, sharp, no frills design

Cynthia Salim
Silk blouses are often dry-clean only, and other options are often made with polyester. The Better Than Silk range is made with a sustainable fibre called Lyocell, a tree fiber they sourced from Austria and is made in a closed loop production process. It is also machine washable, 100% biodegradable and drapes just like silk.
Salim is determined that Citizen's Mark remain a small, private company that's focussed on its mission. "I've seen firsthand what external pressures can do to a brand's values," she says.  With that in mind, they're using Kickstarter to launch their Better Than Silk range, rather than look for venture capital funding. All it takes is 1,000 pre-orders to put Better Than Silk into production. The campaign goes live on April 24th at 40% off.
Pre-order Better Than Silk blouses on Kickstarter at 40% off. Free worldwide shipping for the first 300 customers.
The fashion industry has a long way to go, but with a community of thoughtful consumers and citizens, there's nothing we can't do.

Cynthia Salim
Citizen's Mark have received a high rating of 'Good' from us at Good On You because of their conscious effort to minimise their environmental, ethical and labour impacts, through the use of old mills that minimise water contamination, their support for their workers in Portugal and around Europe and their avoidance of animal products such as fur, angora and leather.
Check out their Kickstarter campaign here.