CLOSURE NOTICE: Arkins has closed permanently.
Gorgeous and affordable fairtrade clothes made from eco-friendly materials sounds like a dream, so let your dreams come true with Arkins. This Manhattan-based ethical fashion brand is the best of the best, and we're so excited to introduce you.
The close-knit team behind Arkins values people and the planet over profits, and unlike countless other greenwashed brands, they aren't just saying that – their deep care for the impact of their garments is obvious in their practices across the board.
With the environment at the forefront of their minds, Arkins use 100% eco-friendly materials in their clothes. For new fabric, they source GOTS-certified cotton, and everything else is deadstock, or leftover material that would otherwise have ended up in landfill. They source this from the eco-warriors over at Fabscrap.
On top of that, they use non-toxic and low impact dyes, and produce their garments to-order nearby to HQ or in small batches in Manhattan's Garment District. All of this means that their carbon footprint is minimised, as is their wastewater production, which is what we love to see!
Arkins are all about the little things, since the little things add up, which is why your order will come to you packaged in 100% recycled materials, from the box to the love letter. Even the tape is plant based and biodegradable! They also partnered with global reforestation non-profit One Tree Planted earlier this year, which means that – you guessed it – a tree is planted every time you order. This helps to offset their CO2 emissions even more.
There are a lot of things to love about Arkins, but our two favourite things would have to be their transparency and their slow-fashion business model.
In the information next to every stunning piece on their website, you will find a small "True Cost Transparency" graph that tells you exactly where your hard-earned money is going. From material and labour costs to transport and hardware, it is refreshing to see such honesty from a company, and realise just how reasonable their markup is compared to other brands out there!
They also truly embody slow-fashion by creating their garments to-order, or in small batches, from high quality materials. Everything is made to last, and Arkins specifically encourage you to love pieces until the end of their life with helpful tips like "wash them on cold, hang them to dry, mend them and donate or sustainably dispose of them after they have lived fully".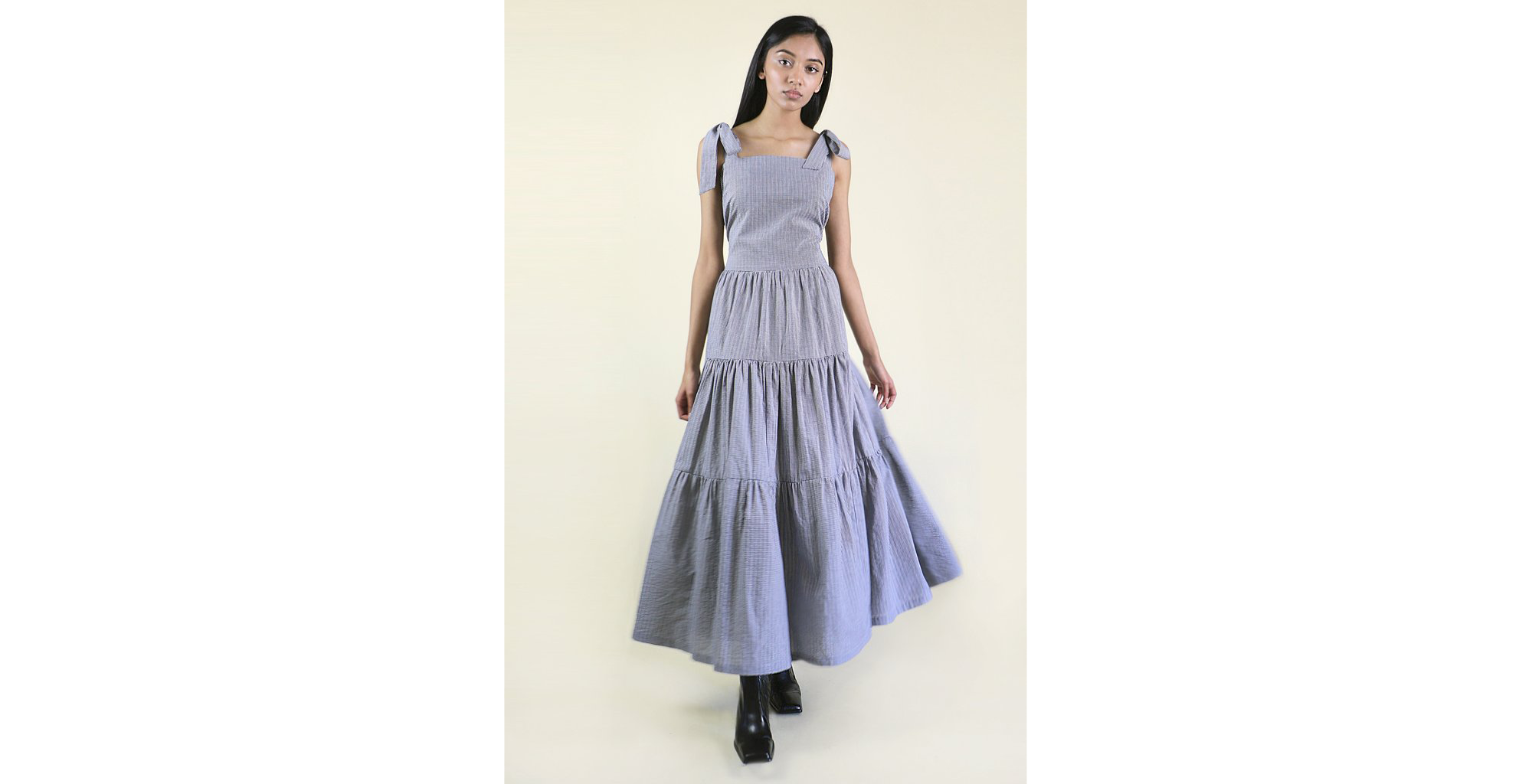 Checkered Tier Maxi Dress – Ships internationally
Their care extends beyond the beautiful Earth we all call home to embrace the wellbeing of its inhabitants, too. They don't use any animal products aside from ethically sourced silk, and any new fabric they use is all farmed, knitted and dyed by Certified Fair Trade workers using PETA-approved practices. Arkins look out for every set of hands that touches their garments, so you can shop carefree knowing the workers who put their love into your new piece are also getting the love back, with fair wages, unions, and safe workplaces. Win win! As for the garments themselves, you can find tanks to cardigans to jumpsuits in an array of cuts, from classic to quirky, but their real winners are the dresses.
The new prairie-style dress is flowy, fun, flattering, and functional! Made from lightweight deadstock cotton fabric and available in black and white check, white, and navy, it is sure to be one of your favourites as soon as you slip it on.