When Claire Goldsworthy launched The Fashion Advocate in 2014 as a blog, little did she know it would grow to become one of Australia's largest online stores for ethical and sustainable Australian and New Zealand fashion, beauty, and lifestyle labels. She didn't have a degree, she didn't have e-commerce experience, and she didn't have funding to launch a business, but what she did have were the kahunas to make a difference.
Now, nearly six years on and 40,000 social media fans and followers later, The Fashion Advocate is a thriving, inspiring, and industry-changing business that supports 66 ethical and sustainable Australian and New Zealand brands.
"I was always an eco-kind of kid. I started recycling programs at primary school. I ran fundraisers for the less fortunate. I was interested in old things and crafting and repairing. When I launched my own fashion label in 2006, every garment I handmade myself was made with recycled materials, right down to the buttons and zips. I used repurposed or vintage fabric, and it was a profoundly fulfilling process to turn 'old' things into beautiful new things. Fashion is personal, and when I made everything by hand, I came to understand that resources are finite and precious."
When I launched The Fashion Advocate, I wanted to inspire people to reconnect with fashion again, to think about the process, and to think about their environmental impact.
It's all we're talking about – fast fashion and its role in the climate crisis. Somewhere along the way (in between Clueless and the introduction of Instagram), fashion changed from being a treasured commodity to a throw-away trend-driven floordrobe of a fast-fashion mess. Positively changing this kind of impulse buying and mindlessly consuming behaviour has always been a priority for Claire, and The Fashion Advocate has always been a bit of a cool kid on the block about it.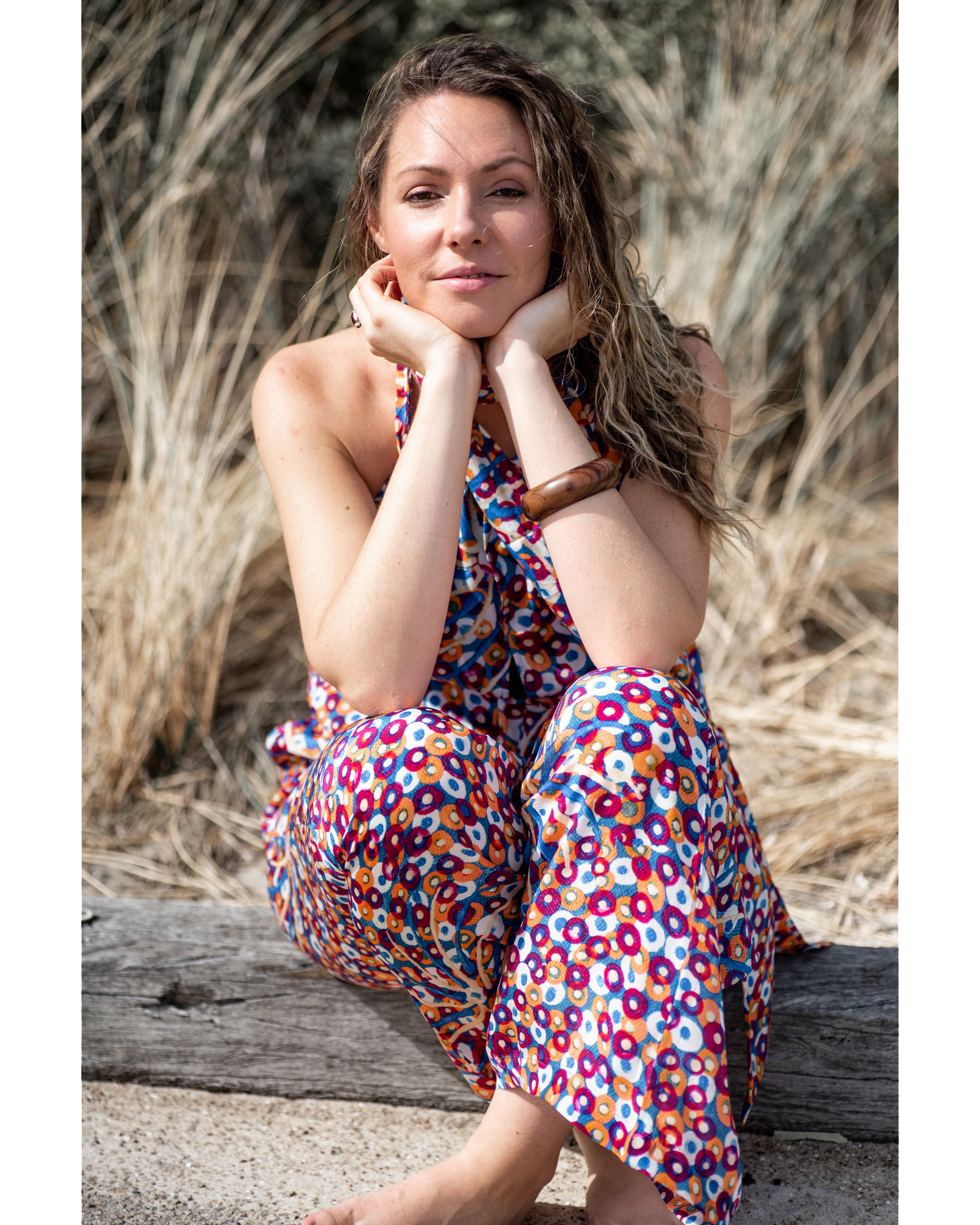 "From the beginning, I've wanted to change the world; it might sound like a pipe dream, but just 'existing' has never been enough for me. I am ridiculously passionate about positive change, and I want to inspire people to have fun with their power to make a positive impact, not drown them in the doom and gloom of it all. Climate change is real and daunting and sometimes it keeps me up at night, but if I'm going to work in an industry responsible for it, I'm going to have fun while I'm doing it. I'm determined to inspire people to approach positive change in a fun way. "
Every morning when you get dressed - you have the power to change the world, and I want people to feel that power and know that they have it. People need to know that every choice they make has the power to do great things.
Finding the inspiration to shop consciously can sometimes be overwhelming considering the state of the industry, which is why The Fashion Advocate introduced its 'ten brand values' in 2017. Only brands that can prove they manufacture ethically, in addition to meeting a minimum of three of The Fashion Advocate's ten values, are welcomed into the online community. From being Australian and New Zealand designed and made, to being recycled, circular, vegan, transparent, certified organic, or a social enterprise – the 66 labels stocked online at The Fashion Advocate use fashion as a force for good, collectively working towards positive social and environmental change.
Brands' values are also listed on their items, along with manufacturing and material information, and all brands adhere to The Fashion Advocate's mission statement, making it super easy for shoppers to look good, do good, and shop with a clear conscience. The Fashion Advocate is also proudly plastic-free, and most recently, Claire released the news that 2020 will be her last selling virgin polyester.
Our Australian and New Zealand fashion, beauty, and lifestyle labels work their butts off with one goal in mind - to create positive change.
"But, we need more awareness, more people talking about fashion's impact on climate change, and more people switching to better alternatives – if we're going to move the mountains we want to move. For us, making better business choices is essential, so 2020 will be our last year selling virgin polyester. Put simply, polyester is garbage. Polyester is a synthetic, petroleum-based fibre made from carbon-intensive, non-renewable resources, and 70 billion barrels of oil are used to make the world's consumption of it – every single year. It's not natural, it's not biodegradable, and it's certainly not sustainable, so, we're doing something about it."
The Fashion Advocate will continue to sell the polyester garments they already stock until they sell out, and they won't be taking on any new polyester ranges. It's a bold move considering 63% of all fashion is made with polyester.
"We'll lose a few labels from our existing community, and we'll lose the potential of taking on some new brands too, but we'll be fixing a global problem in the process. That's worth more than money to me. We have nothing to hide, only goodness to give, and good vibes to share, and we are continually striving as a community – for better."
Striving for better sometimes means making hard choices, but if I'm going to change the fashion industry on the scale I want to, reducing the sale of polyester clothing is a great place to start.
To shop sustainably, learn more about The Fashion Advocate's brands, or find the inspiration you need to switch to ethical everyday staples, head to www.thefashionadvocate.com. Every garment counts.
Check out two of our favourite brands stocked by TFA below: