What does it take to change the world? Is it a protest, a piece of art, a hashtag? How can we embrace our friendships and communities and drive the kind of change that improves lives and protects our natural world.  How do we, the many, challenge the power of the few? These are the questions posed by journalist and activist Clare Press in her new book. Rise & Resist: How To Change The World. Are you ready to be inspired?
Clare Press is a leading light of the sustainable fashion movement.  Her podcast Wardrobe Crisis and the book of the same name have seen her travel the world telling the stories of the people behind the clothes we wear.  As well as being the first sustainability editor at any Vogue globally, she also sits on the advisory board of Fashion Revolution Australia.
In her new book, Rise & Resist: How To Change The World, Press goes beyond fashion to explore the new wave of social and political movements sweeping the globe.  Her aim is to "empower the reader to be able to make change in their lives."
And that's just as well, because it's 2018 and there is no shortage of ills in the world to rise up against.  From the horror of Trump and the far right, the flashpoint of #metoo and the new women's empowerment movement, to the big beast – climate change. What if it's all too much? How do you avoid overwhelm? How do you pick your battles?
"What I wanted to do was present a context for people who just want to make the world more sustainable then it's up to you to pick out those threads and see which ones resonate with you," Press says.
When you're really freaking out about a massive issue like climate change, it can be really easy just to get despondent and worried, and just tired from it. What I want this book to do is to present stories of inspiring changemakers who have actually done something about it so that we can move forward and take action, because taking action is what makes you feel motivated.
"It's a kind of…I want to say it's like a rolling stone. You start off and then you get more and more motivated and then by taking some small action every day you stop being overwhelmed because you're making change instead of just sitting back and looking at it from the outside."
The stories and battles of women are always front and centre in this book. Press traces the origins of the Women's March, and how a simple knitted pussy pink hat design came to be the symbol of female resistance.  She believes we are at a "moment of great amplification of women's voices" but there are areas where more needs to be done.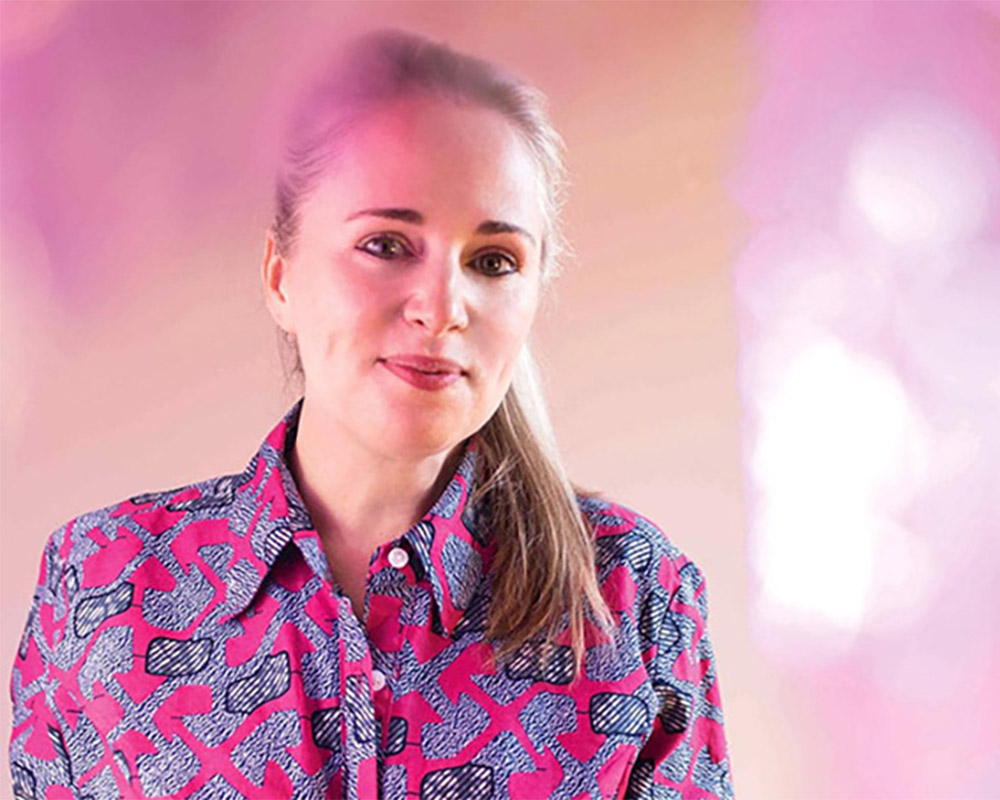 "I feel like women, and particularly young women's voices are not heard as they should be, particularly around the climate – we have Naomi Klein, who is a legend writing and influencing in that area, but apart from her I feel like it's often men and I want to hear from women changemakers," she said.  "I am one myself, my community is largely made up of women and particularly young women, and I want to elevate their voices."
Part of elevating women's voices is celebrating the diverse ways people protest, take action and raise awareness of the issues they care about.  In Rise and Resist we hear about everyone from the knitting nannas to a feminist performance artist who knits with yarn extracted from her vagina.
"I had a lot of fun exploring the more creative ways that we can make protest, make change and make our voices heard and I love that creative aspect of it," Press says.
This book is really about some of the non-conventional ways that we can build movements and get together to make change.
"For example, 'craftivism' – which I love –  is a non-conventional way of getting your message across.  In the book I interview the coiner of the term 'craftivism', Betsy Greer, and she and also Sarah Corbett in the UK, who works for Fashion Revolution, they talk about gentle activism and this idea that you don't have to shout.  I think the idea is to be very inclusive and say which story tugs at your heart strings, which do you relate to, because not everybody wants to raise a placard and chant do they?"
Rise and Resist is a book about this particular moment in history, and how we can harness our collective power to build a fair and healthy future for everyone.  The product of a lot of late nights in her home office, Press called on the support of a girl gang of activists and changemakers to pull it all together. "I was very lucky to have happened upon May Boeve (350.org founder) in Sydney. I had this very early on interview with her that shaped quite a lot of the climate stuff in the book. She's just a powerhouse, and so positive and also just a deep thinker around all the different sorts of connections that you can make around the climate change question.  But I've also had a lot of help from people which has been amazing."
But while Press showcases some of the most creative and inspiring changemakers around the world, there was one trending movement that left her a little cold.  The rise of minimalist living, as promoted by Marie Kondo and American duo the Minimalists. "I respect other people's opinions and I respect people who find minimalism motivating, however when I went to see the Minimalists talk on stage, I came away feeling a bit disappointed, like they hadn't taken it far enough," she says.  "I felt that they were focussing on the personal – so it was all about 'you will feel better if you shed this stuff' and just kept sitting there thinking, well it's not really all about you personally feeling better, that seems really old fashioned. I want the whole world to be in a better shape."
And that's the essence of the book – community, collective action and collaboration.  The movements Press explores have their groundings in real life but gain their momentum through the connectivity of the internet.
"You can't just change your world on your own," she says.
Certainly I'm always talking about how you have to start at home and you can start small - that does make change. But what we really need to do is get together and do this in community. What the internet has done is expanded our community in an amazing way, I find I've got so many relationships that I've fostered through Instagram in sustainable fashion - and I love it! You find out stories, you get inspiration.
"That's what Good On You does, it's all about getting together and finding different solutions and working towards how we can change the old ways we did stuff," she says.  "When I started to think about this book being very complex, what kept me grounded was realising – actually OK, there's lots of big macro issues here and lots of politics here and lots of complicated research around climate change – fine – but at its core this is quite simple, it's about saying let's be active, let's be social, let's be citizens who take action to be agents of change to make the world how we want it to be rather than let's sit on the sofa and just do nothing."
Click here to order a paperback copy of Press' Rise & Resist: How To Change The World and get 30% off! Use the promo code FASHION_WITHOUT_HARM at checkout.