We share with you our favourite online resources to learn how to fix, stitch, and make your own clothes.
Believe it or not, sewing is trendy. When the pandemic hit, many of us dusted off our sewing kits to find a creative way to pass the time while learning how to make the most out of our wardrobes. Not only is it a useful skill, but sewing can also help relieve stress, make us feel more positive, and improve hand-eye coordination.
Sewing is a skill that takes a bit of practice to master, but we encourage everyone who is able to at least learn how to patch a hole.
Whether you're just starting or want to find cool clothes you can make yourself, we wanted to share our favourite online resources to support you on your sewing journey.
The basics
In this section, you will learn what you'll need to have on hand and how to start mending and sewing your own clothes.
Assembling your sewing kit
There are plenty of sewing kits you can buy out there, but you could also assemble your own by reusing an old pouch or glass jar and filling it with all the tools you'll need to start sewing. Maybe your parents have extra pairs of scissors they wouldn't mind giving you, or perhaps a friend has a few items they're not using. Here's what we recommend you have in your basic sewing kit:
Pins, needles, and thread
Measuring tape
Fabric scissors
Seam ripper
Of course, you can always add more as your skills and needs evolve. You'll find plenty of options and recommendations online when the time comes.
If you want to make your own clothes, you'll also need to buy fabrics. We recommend checking out your local fabric shop first. Otherwise, many websites sell fabrics, including sustainable and ethical fabrics. You can also reuse old clothes, bedsheets, or towels—whatever materials you have already lying around at home.
Do I need a sewing machine?
Good question. It depends on your needs. If you just need to darn socks, patch holes, and sew a hem from time to time, the answer is no.
However, if you want to start making your own clothes, using patterns or handling heavy-duty fabrics like denim, then you might need to invest in a sewing machine. A good sewing machine is an investment and can last you a long time (I mean, my mum still has hers, which she bought when she was 20). It'll take a bit of practice to get used to it, but once you know how to sew with a machine, a whole new world of possibilities will open to you.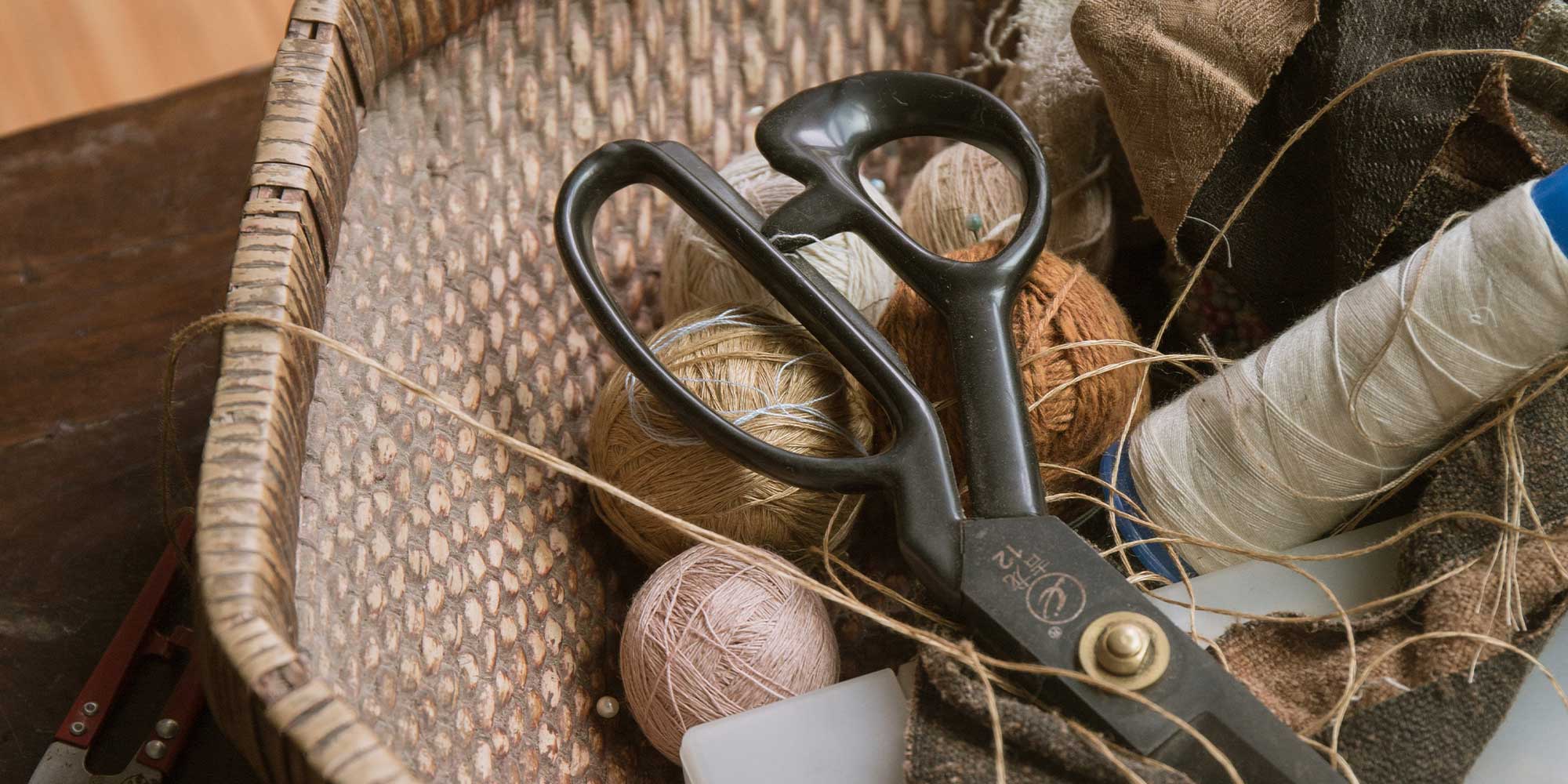 Online sewing classes
Learning how to sew has become so easy thanks to the internet. There are many free online sewing classes and tutorials that you can take at your own pace and from the comfort of your own home:
You'll also find plenty of sewing classes on Skillshare or Udemy.
Mending your clothes
Let's start small and get used to the needle and thread by working on a few easy mending projects. Prolonging the lives of our clothes is one of the most sustainable things we can do for our closets. Plus, knowing how to patch a hole, replace a button, or sew a hem are valuable skills for everyday life.
We all know that dreadful feeling when you feel your clothes snag on something sharp, and you look down to see a hole or tear. Ugh. Luckily, repairing a hole is a quick job that anyone can learn to do.
Learning how to sew a seam that has ripped can be a game-changer. Once you know how you'll have no reason to toss your favourite shirt or dress—just fix the ripped seam quickly and easily.
Replacing a button on a shirt or a dress is one of the easiest things you can sew. Even if you decide to stop reading this article right now, at least go learn how to sew a button on.
Who has bought pants only to realise they were a tad too long? I know I have. And when it happens, knowing how to sew a hem is essential. You could also take your pants to get tailored, but doing it yourself only takes a few minutes and is way more affordable. If like me, you don't have a machine, you can even sew your hems by hand (my mum taught me, but this tutorial is great too).
Next time you rip your jeans, you can a) rock the ripped denim look and look super cool, or b) easily repair your jeans by stitching or darning the holes, or even applying an iron-on patch for a unique look.
I don't know about you, but I always find ways to make holes in my socks. It's annoying, and learning how to darn socks has changed my life. Now I just put on Netflix in the background and darn a few socks at a time.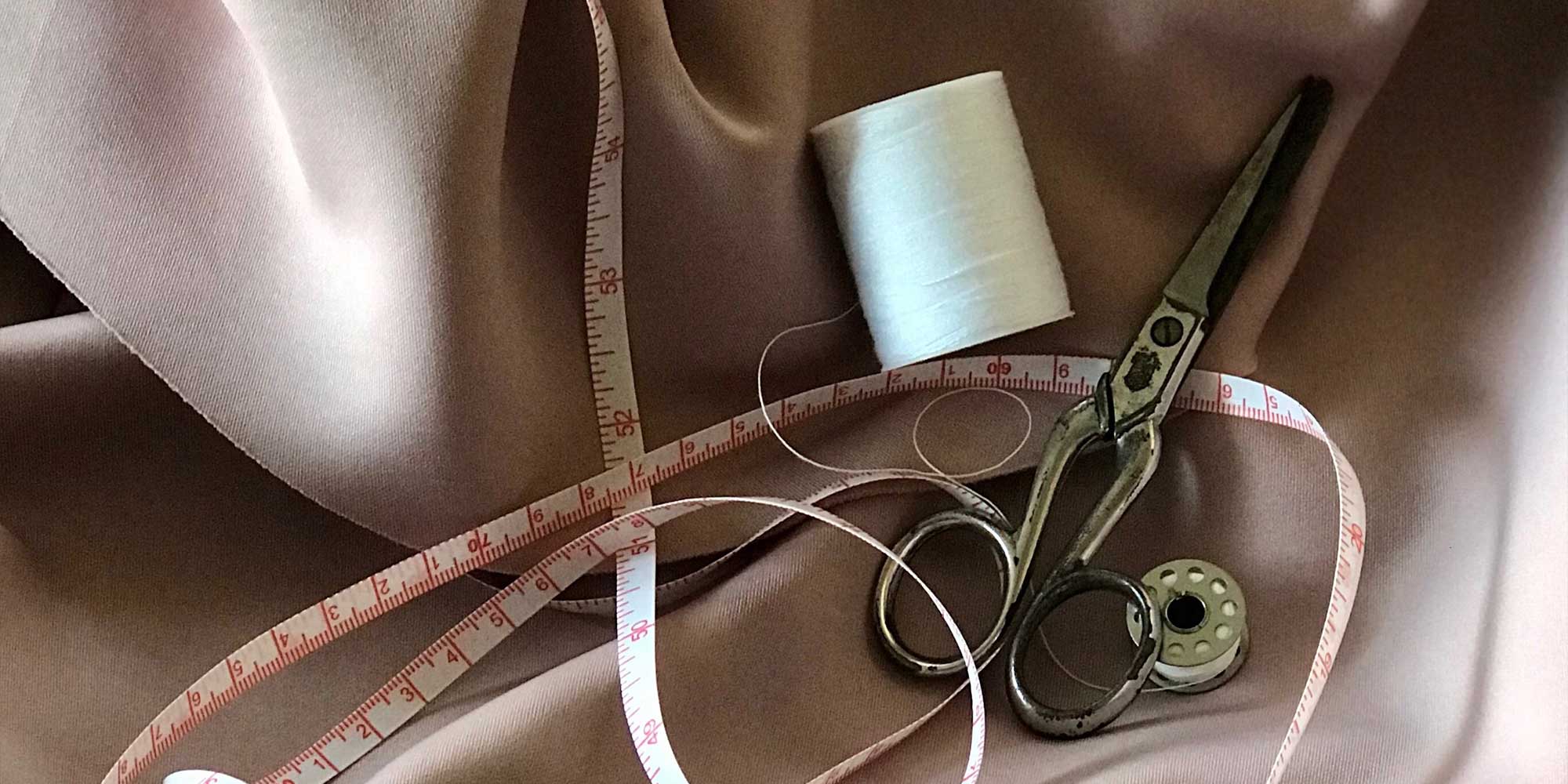 Upcycling or making your own clothes
You've made it all the way down here, so now it's time to start actually making your clothes.
First, you've got to learn how to use patterns and some basic sewing terms so you can decipher tutorials more easily.
When it comes to finding patterns, you'll find plenty online, and many sewing blogs share their patterns with their community. We also recommend checking out Peppermint Magazine and Seamwork. Both have an extensive selection of cool and contemporary designs.
Need inspiration? Here are some of our favourite DIYs to make or upcycle your own clothes: