We have put together a guide to doing festivals ethically, with tips that can carry across from the festival ground into our day to day lives.
Summer is that time of year when the fun circuit of festivals are in full swing. The lineups have been released, you're gearing up for an awesome weekend outdoors with great music and friends, but your sustainable self wants to minimise your impact on the environment in the process. That's why we've put together a guide to doing festivals ethically, with tips that can carry across from the festival ground into our day to day lives.
They may only last a day or five, but festivals can have a big environmental impact,  with tens of thousands of people descending on one spot – often in an idyllic country setting. The group A Greener Festival works with event organisers to help them be more sustainable, but there's a lot us music fans can do to.
Keeping fashion sustainable
Regardless of the time of year your festival is taking place, it is inevitable things are  going to get dirty! But this does not have to be a bad thing. Fast fashion brands often market festival fashion to their customers – cheap, quirky outfits that are often only used for the one event, or thrown away at the end of the weekend. But how sustainable is that? Festivals are a great opportunity to use what you have in your wardrobe and create new combinations (as well as knowing you won't turn up wearing the same thing as anyone else!). Alternatives to buying new are clothes swaps or op shopping; much more sustainable and ethical ways to dress for a festival weekend. And, if your clothes do get dirty, caring for your clothes is quick and easy. They will be as good as new in no time!
Minimal impact camping gear
When it comes to ethical and sustainable camping, there are a number of ways to minimise impact, both leading up to the festival and during. A good place to start is your sleeping arrangements. We all know there are tents floating around for cheaper prices, but why buy something poorly made when you and some buddies could invest in a tent that is made from all recycled plastics? The EarthShip make a unique, sturdy option with their Molecule Tent. These are well-made, colourful, spacious and  great for various weather conditions (and we know the rain can really dampen our fun after a night of dancing)
In recent years, people simply walking away and leaving their cheapo tents at the end of a festival has become a huge problem for organisers. There's even a campaign Love Your Tent which encourages people to take their little domes home with them. Investing in a good tent will keep you warm, dry and sustainable for years.
Other ways you can minimise your footprint is by borrowing camping gear from relatives, or make a plan to share different camping items with friends.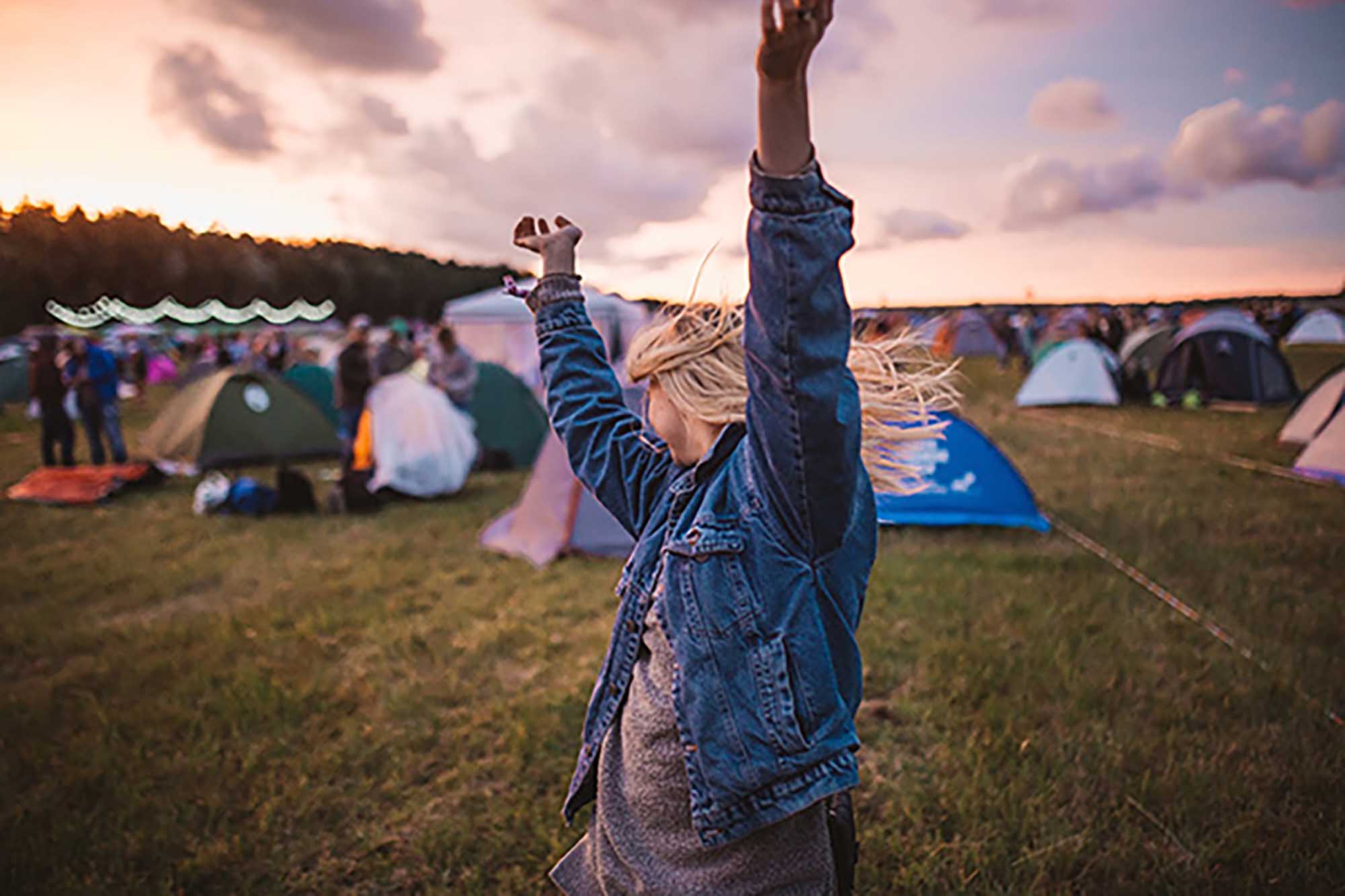 Ethical, sustainable supplies
It is hard to avoid disposable plastic products at a festival ground, especially if it runs over a weekend. But coming prepared and planning your supplies ahead will allow you to maintain minimal impact on the environment while having a great time.
While England is potentially banning plastic straws and single use plastics, it is a crucial time for consumers to move away from disposable items and look to a more sustainable way of approaching portable meals at events. Reusable drinking straws and BYO plates and cutlery are great staples to bring along for the weekend. Re-play stock plates and various utensils made from curbside collected HDPE plastic, that are a perfect size and come in many vibrant colours. Bringing a reusable cup such as a KeepCup as your go-to cup for the weekend is another useful, sustainable way to minimise your footprint at the festival ground. With these small, lightweight and convenient items, you could almost go the whole weekend, waste free.
Another necessity for a weekend in the country is a torch or portable light, as we can't always rely on our phones. Little Sun produce small portable lights that are fully solar powered. They are compact and have a long battery life, with up to 50 hours of power from five hours of charging in sunlight!
Getting there
Road tripping to your next festival? Why not squeeze everyone in, and split the petrol costs, save on parking, take turns driving and best of all, avoid taking multiple cars. Fuel emissions from cars are a huge contributor to the greenhouse gases in our atmosphere, so with the volume of people attending the festival, it makes sense to be conscious of the impact this will have, considering how we arrive to the moment we leave the event. Car sharing is a great option if you and a few friends don't have access to a car. Platforms such as Uberpool, BlaBlaCar and more are great alternatives to hitch a ride with someone going the same direction. Posting on social media channels can also enable you to find random festival goers looking to fill some seats.
Recycling
Amongst all the other fabulous and innovative ways you can be ethical at a festival, recycling is one of the most important. Although most venues offer some form of recycling, it is worth investigating your recycling options ahead of the event, which will give you time to prep accordingly. In many countries, things like soft plastics can be recycled separately from general waste, so collecting these to take home with you at the end of the weekend will greatly minimise your waste. Also ensuring you have a cardboard box handy for things like bottles and plastics will keep your campsite waste free throughout the whole festival weekend. Plus, it's free and makes the clean up much easier on the last day!
So, enjoy the festivities and great music with this ethical guide, while knowing you can minimise your environmental impact with just a few easy steps. Check out Good On You to find other ways you can maintain your ethical and sustainable approach, to fashion, festivals and more.
Author bio: Madeleine is an experienced content writer who specialises in all things personal sustainability, environmental awareness, and minimal consumption. She loves using her writing and research to clearly communicate these key solutions to environmental issues, and endeavours to help people do more in their everyday lives to minimise their footprint on the planet. To do this, Madeleine also manages the online platform Our Simple Gestures, and in her spare time loves being outdoors and enjoying life! Find her at LinkedIn, Instagram and at the website.