We may know where our clothes come from, but how often do we stop to consider the integrity of our accessories? Introducing SAYA Designs. SAYA are specialists in rescuing tree roots from old logging plantations and transforming them into uniquely natural accessories to be worn in your hair.
The brand's founder Victoria always had a deep appreciation of Mother Earth's natural beauty but was frustrated by the damage humanity were capable of doing to something so precious. It was this frustration that initially sparked her interest in sustainable forestry. As soon as Victoria had opened this proverbial can of worms, she couldn't stop thinking about what she could do to help.
Launching her brand SAYA Designs in 2015 enabled Victoria to continue researching her passion and to ultimately make an impact on the forestry industry. A Kickstarter campaign took off, and soon she was at the helm of a fully-fledged artisan accessories label.
Turning heads
SAYA Designs specialises in handcrafted wooden hair sticks, slides and forks. If (like me) you have trouble with anything other than a bun or a simple ponytail, the team at SAYA provide a fool-proof set of tutorials to nail the 'do' using their wooden adornments.
SAYA Designs are a lasting alternative to plastic clips and flimsy elastic bands (and how many of those end up in the bin after just a few months of wear and tear?). Made from wood, SAYA's designs will actually preserve your hair's natural oils, healthier for your luscious locks.
Each piece is designed from nature, a symbol of environmental awareness and positive change.
Not only do these hair accessories adorn your luscious locks, but for each one purchased SAYA pledges to plant up to 10 endangered trees.
"At SAYA we take a waste material and turn it into something beautiful and purposeful while protecting and giving back to our planet" says Victoria.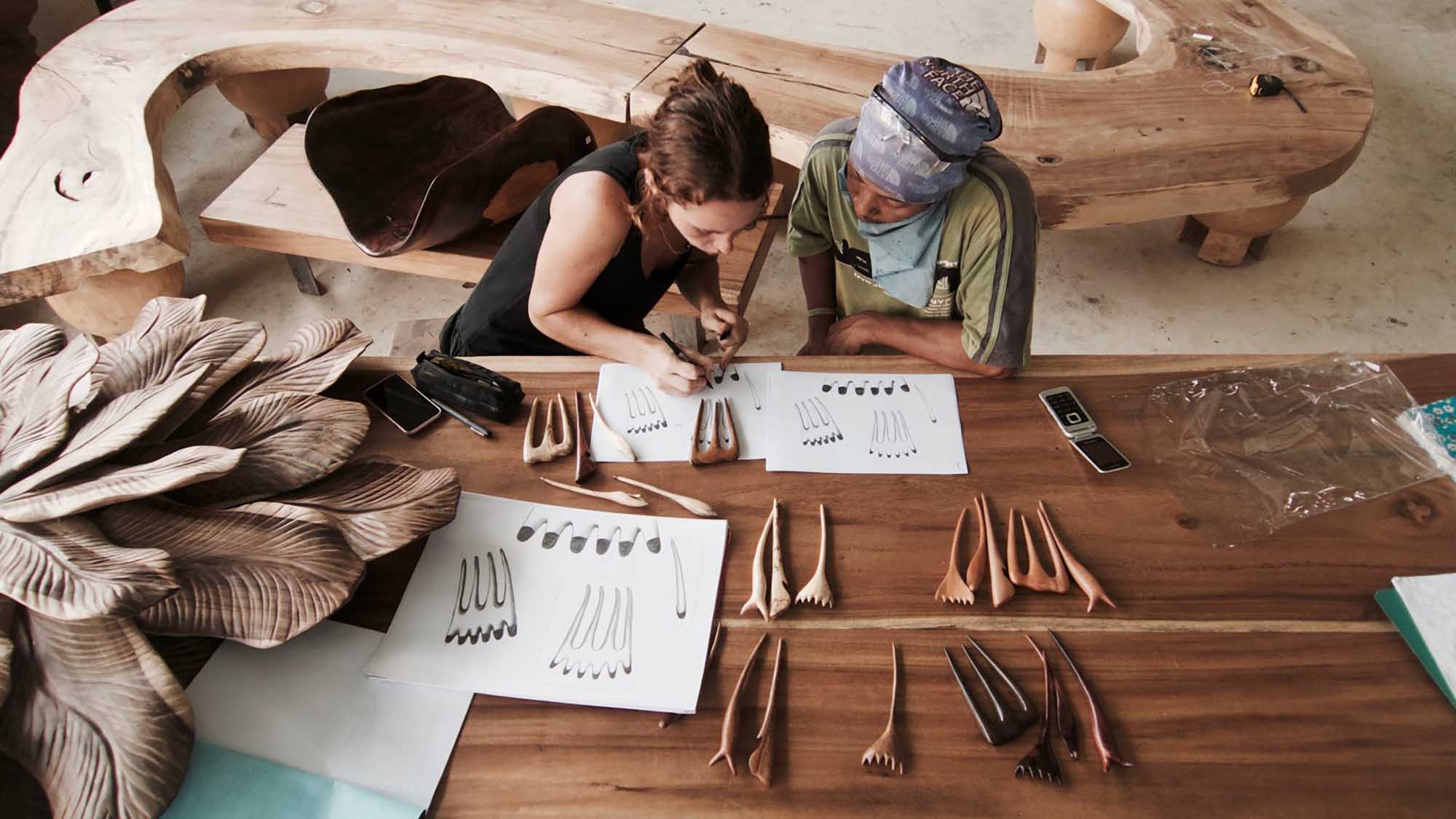 People, planet and animals
SAYA Designs truly upholds each of the Good On You pillars – people, planet and animals.
All SAYA Designs pieces are handmade in Bali – where woodcarving is a traditional artisan craft – supporting Indonesian culture and artisanal trade. Each SAYA hairpin is inspired by the rich flora and fauna in Indonesia and designed to directly reflect local plant life. They are sanded down to the finest grain using simple tools and techniques, and finished with natural wax and oils.
The SAYA business is built around the concept of Recycle, Repurpose and Replenish. Tree roots left behind by loggers harvesting on large-scale sites take hundreds of years to decompose and are often burnt by the local community for firewood. The CO2 emissions from this are huge. SAYA is salvaging this waste material and turning it into something both functional and beautiful.
By planting hardwood, slow-growing trees, SAYA is doing its part to capture the carbon that's fuelling climate change. In turn, this supports ecosystems and provides safer habitats for animals.
Towards a greener future
"In the age of globalisation, industrialisation and climate change, putting money directly into the pockets of local artisans and those going the extra mile to work ethically is a very powerful thing," says Victoria, "I believe we are on the brink of change, and I am personally determined to drive more energy into this change." Through SAYA, Victoria hopes to create excitement around these issues, inviting others to join in and take action.
"Our commitment to you is that for every hair stick you purchase, we will buy and plant up to ten seeds through our partner NGO GAIA," Victoria says, proudly. To date, SAYA has planted over 3200 trees, equal to over 65 hectares of full forest. The exciting bit? This is only the beginning.