What does plastic made from gas, and robots that knit have to do with the Good On You app?  They are all made by ethical startups that have secured a spot in the latest Fashion For Good-Plug and Play accelerator program in Amsterdam.
Fashion For Good is a global initiative that aims to promote social and environmental progress in the fashion industry through innovation, technology and collaboration. Its focus is what it calls the five 'goods': Good Materials, Good Economy, Good Energy, Good Water and Good Lives. The organisation's main hub is in Amsterdam, where it runs a circular fashion community space and an art/technology exhibition that's open to the public.
It's also where Good On You Co-Founder Sandra Capponi has been spending time over the last six weeks, after we won a place on its prestigious accelerator program.
What's An Accelerator?
In the world of startups accelerators give new companies access to industry, expertise and investors.  For Good On You, it's been an amazing opportunity to collaborate with other innovators and connect with some of the biggest players in fashion including Adidas, Zalando and Kering, who are taking a lead on sustainability. "It's so inspiring to be surrounded by people from all around the world who share a passion for transforming the fashion industry for good," Sandra Capponi says. "The innovations of some of these other start-ups are incredible – from making leather out of the lab to platforms enabling the design of circular fashion garments."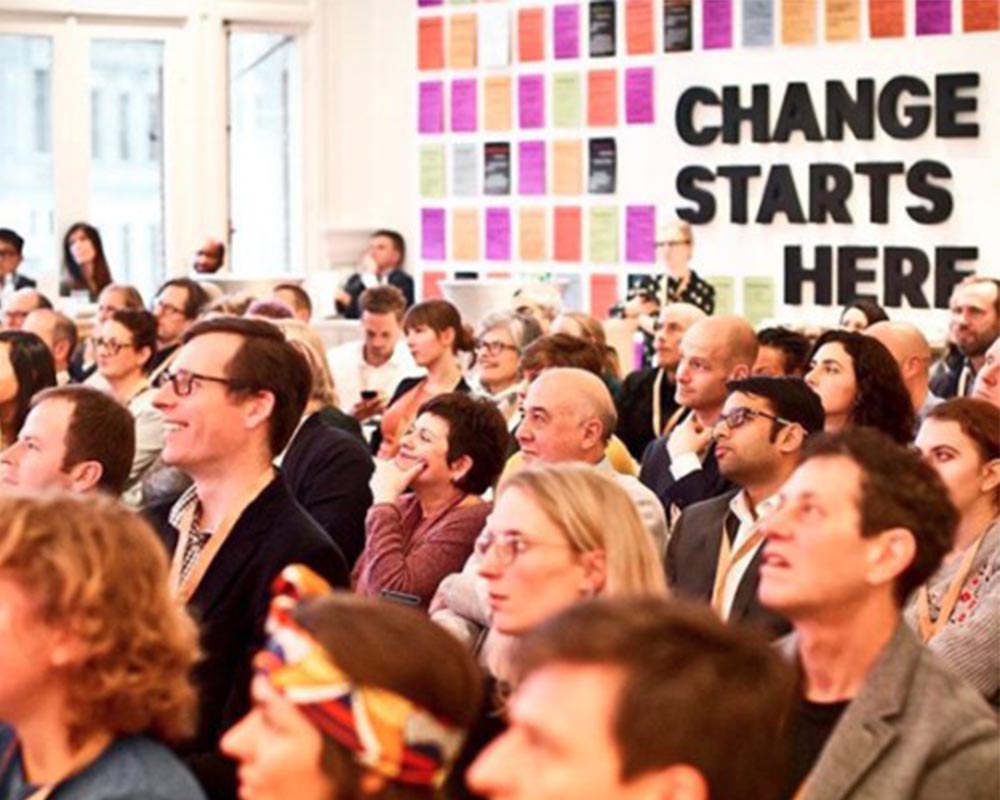 Who else is there?
There's a wide range in the focus for the startups, from those like Good On You, that empower consumers, to NanoTextile – a company that's come up with an environmentally friendly way to attach finishes to textiles during production.
There are two startups on the accelerator program that use fruit to fabricate fashion products. Frutmat uses apple waste to create a leather substitute that can be dyed without chemically intensive techniques. While Orange Fiber makes a natural fabric using cellulose from citrus by-products.
There's also Mango Materials. But don't be fooled, their plastic substitute is made from methane gas, captured from waste facilities. Methane is a potent greenhouse gas (worse than carbon dioxide) but this company turns it into a bio-alternative to polyester for fashion.
The increasingly urgent problem of ocean microplastic contamination sees a possible solution in PlanetCare, which uses nanotechnology to make a filter that can be attached to washing machines to stop microfibres getting released.
Then there's Scalable Garment Technologies Inc, a robot knitting machine that uses 3d printing software to make custom seamless knit clothing.  With the digitisation of the whole process, clothes can be made according to demand, which in turn reduced waste.
In all, there are 15 participants in the accelerator from ten different countries – each playing a unique role in changing the fashion industry for the better.
The programme is supported by some of Europe's biggest clothing companies, and this batch of innovators is the third to complete it.
To drive real change in the industry, we need the major labels to act," Sandra says. "Good On You users play such a big role in this – by sending a clear message to fashion brands that they want to know how their clothes are made and they will make shopping choices based on impact.
The Fashion For Good Plug And Play Accelerator program runs until the 14th June 2018.