In her new book Total Ethics Fashion: People, Our Fellow Animals, and the Planet Before Profit, writer and activist Emma Håkansson dives deep into supply chain issues associated with fashion around the globe. In the midst of a global environmental crisis and serious ethical issues, it's time for the fashion industry to take a more holistic approach to both its problems and solutions, Håkansson argues in this extract from the book.
How we view fashion and sustainability
There is no way to sustain our current fashion system, so sustainable fashion cannot exist within the industry today.
The materials we frequently use and wear are depleting the planet, often even when coming to us with promises of being "natural", "responsible" or "conscious". Too, the energy our industry is fuelled with is far from green.
Materials matter. Hugely so. As a single impact category, raw material production is responsible for more emissions than any other in the industry, as much as 38%. This part of fashion is also most responsible for biodiversity destruction and a host of other environmental harms.
Materials matter. Hugely so. As a single impact category, raw material production is responsible for more emissions than any other in the industry, as much as 38%.
If we look at the data, and listen to IPCC recommendations and calls from leading scientists, it's clear that a fashion industry which wants to exist in alignment with the Earth, limiting its impact on it as much as possible, must accept that the production of both fossil fuel-based and animal-derived materials must be moved beyond.
Within environmentally minded spaces, it's generally easier to convince people of the first part. We're facing ecosystem collapse, and as hard as BP tried to ensure otherwise, we know fossil fuel extraction is a dangerous foe we must be rid of. It's the leading cause of the climate crisis and must be urgently phased out, as confirmed by the UN's Intergovernmental Panel on Climate Change (IPCC). Less widely acknowledged, the IPCC also states that a switch to animal-free product alternatives would result in a "substantial reduction" of greenhouse gas emissions, and that methane emissions specifically—largely caused by animal production systems—have contributed 0.5 of our 1.1°C of global warming so far—with the global consensus being that we must work to curb warming before we reach 1.5°C. The UN's Food and Agriculture Organization has also long stated that farmed animal production is "one of the most significant contributors to today's most serious environmental problems," and that "urgent action is required to remedy the situation".
Even despite this scientific consensus amongst leading experts, convincing people of the animal side of fashion's required transformation continues to be much harder than that of oil-based synthetics. This is in large part thanks to fallacies of "natural", and lobbying by industries which looked to the likes of Exxon's cover-ups as inspiration, not something wicked.
The fallacy of 'natural'
If something is "natural", it's derived from nature, the physical world around us, not made by we humans. Appeals to nature imply that if something is "natural" then it must be "good", and vice versa.
But plenty of things fall into the "natural" and "bad" categories alike: deadly viruses that have killed millions of people, for example. When people argue that wool is "natural" and therefore "good" for fashion, they rely on this same premise, but they miss a few things. While it's true that the hairs which grow off the bodies of animals are natural, and that sheep are raised outdoors in the environment, everything else about the wool industry is human-designed and controlled.
Domesticated merino sheep are the selectively bred descendants of mouflon, who have lost their naturally shedded, outer fur layer in place of an unnaturally thick wool layer which won't fall out. In fashion's wool production, the matter of which animals breed, which animals die, and which bloodlines continue are decisions designed by the industry for profit. These manipulated, commodified animals often stand on monopastural lands which were once full of abundantly biodiverse plant and animal life. Now it's just green grass and sheep, and millions of them: 70 million in Australia alone, over one billion globally. This scale cannot be remedied by alternative ways of rearing sheep and this industry is eating away at natural lands because those numbers are far from natural.
Even on a smaller scale, this system requires far more land than any plant-based, cellulosic, or recycled fibre production system would. Also, the methane gas released into our atmosphere when over a billion sheep pass, sheep breathe, and belch has a devastating impact on our climate (small ruminants like sheep and goats are responsible for as many tonnes of carbon equivalent emissions as 103m cars driving throughout a year, with cattle responsible for far more), and on the natural world we want to protect.
Comparing annual small ruminant emissions to driving cars: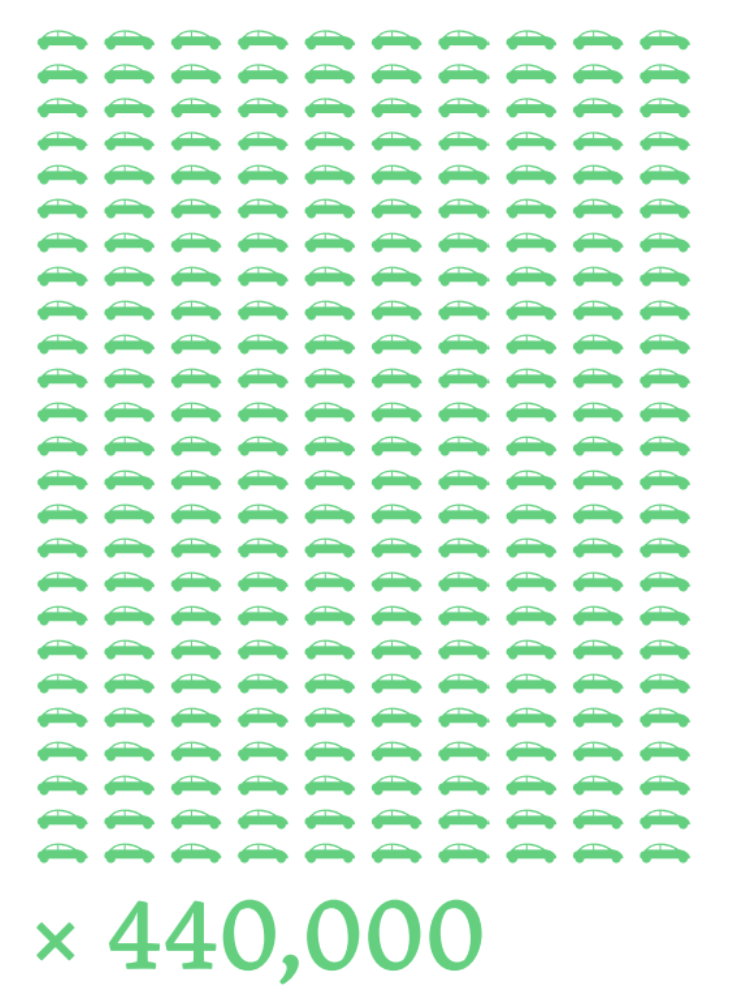 Land use comparison for one sweater: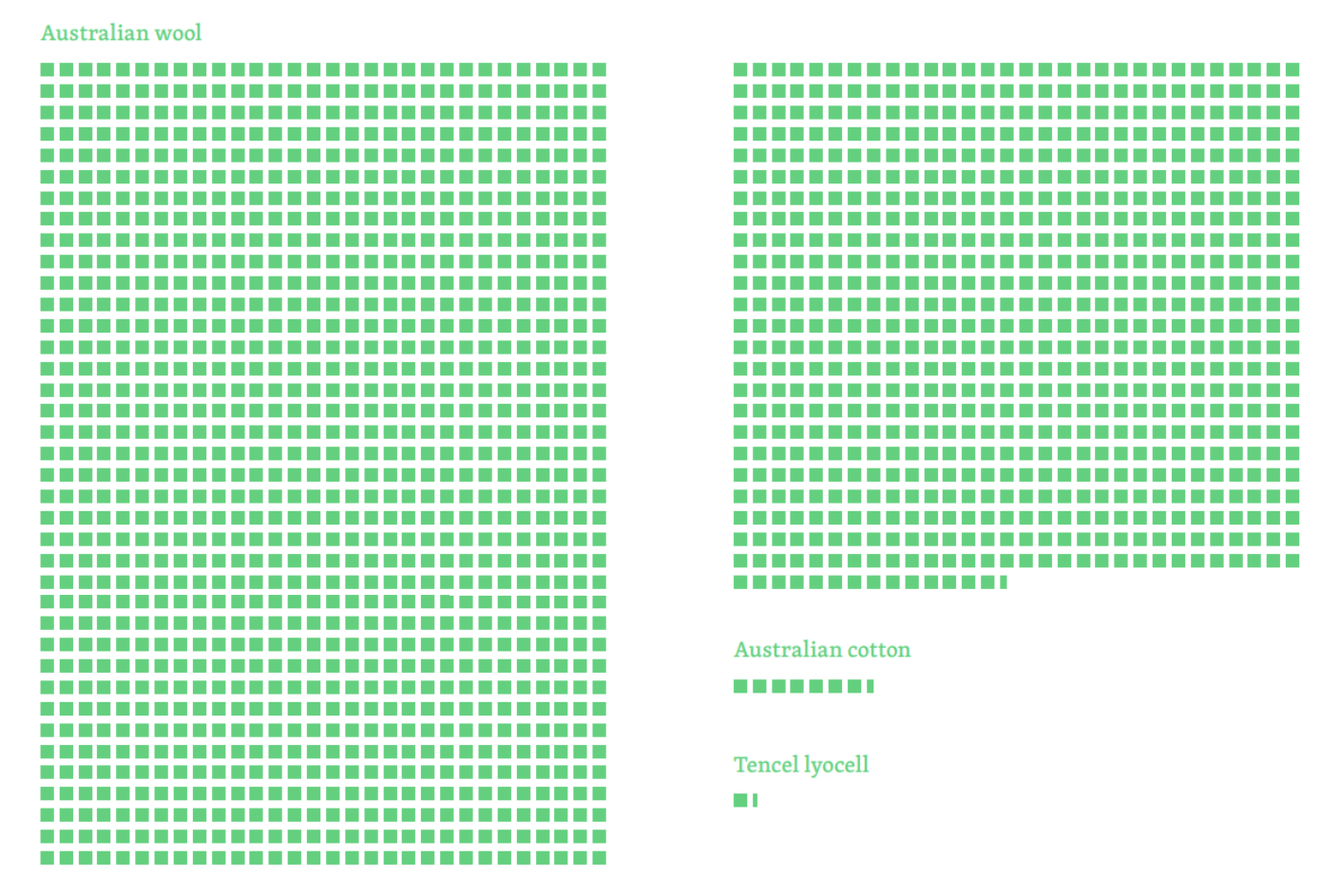 We need to be driven by real-life impact, not by senses of what's "natural" or what seems sustainable. Human invention may not be "natural" but it's long existed, evolved, and helped the natural world, producing more land-efficient plant fibres, less resource-intensive dyes, and bio-materials which marry what's natural and what's invented perfectly for the benefit of the planet and us all.
While we need to move beyond inefficient and harmful material production, it's not only about fossil fuels and animal production systems. We've also got deforestation for irresponsible cellulosic materials, toxic pesticides in many conventional cotton fields, dyes which render biodegradable fibres no longer so, and a dauntingly long list of other woes to work out.
We need to be driven by real-life impact, not by senses of what's "natural" or what seems sustainable.
When people are surveyed on what environmental factors matter when they make purchases, they often speak about things like sustainable and recycled materials, durability, and a lack of hazardous chemicals used, but we don't really hear about degrowth. We don't often hear about it because it's not something so easily sold or understood.
Degrowth
We keep viewing sustainability in fashion through a lens of "looking after the environment in the way that is most in line with economic growth". But that's a huge part of the problem because, among other factors, degrowth is a prerequisite to our ever being able to achieve "sustainable fashion", and degrowth is about shrinking the fashion industry's scale. It's about decoupling financial growth from fashionable success. In fact, some experts suggest that the industry must reduce in size fourfold in order to stay within planetary boundaries. Perhaps not surprising when we've moved from a fashion industry with four weather-based seasons, to one with 52 micro-seasons; one for each week, if not more.
While these critical calls can't be ignored, "shrinking" doesn't sound very appealing. Reframed, degrowth is about allowing more space for longevity, for repairing, for caring for clothes. Degrowth in fashion production means flourishing natural environments and cultural re-engagement with fashion as a kind of creativity and not only of consumerism. It means the development of fashion, the transformation of industry from one which is linear—always taking and always throwing away—into one which is circular, constantly reinventing and innovating, not just extracting. A different, more nourishing kind of growth. Maybe we should talk about "regrowth" in fashion.
Reframed, degrowth is about allowing more space for longevity, for repairing, for caring for clothes. Degrowth in fashion production means flourishing natural environments and cultural re-engagement with fashion as a kind of creativity and not only of consumerism.
The work of environmental science towards more sustainable fashion is complex, as it should be, working for our magnificently complex Earth. We are faced with a complicated mass of different but interconnected environmental considerations and, as a result, our solution is neither simple, individualistic, nor singular. We can't leave saving the planet to citizen consumers and their purchases alone; rather it must be a whole ecosystem of people, brands, and governments working collectively. There's no use seeking one specific, singular answer to how fashion can be more environmentally responsible, no fruitful quest for the thing-that-will-fix-everything-even-if-we-did-nothing-else. Instead, the golden solution is looking broadly, holistically.
We need to address the major emissions tied to the scale of fashion, to fossil fuel production, the rearing of ruminants for leather, wool, and cashmere, and our industry's energy production all at once. But we also can't be locked into "carbon tunnel vision", the dangerous way in which we sometimes strive for net-zero, for drastically reduced emissions, while ignoring biodiversity destruction, the polluting of soils, skies, and seas, how poverty, inequality, racism, speciesism, and classism contribute to our overarching environmental crisis. Essentially, we can't fall into the trap of seeing sustainability as some island of a thing, when everything on our planet touches, interweaves, alters the others.
We need degrowth. We need clean energy. We need to change the materials we use, and we need to work towards these all together and simultaneously, in a broad and diverse web of people dedicated to life on Earth.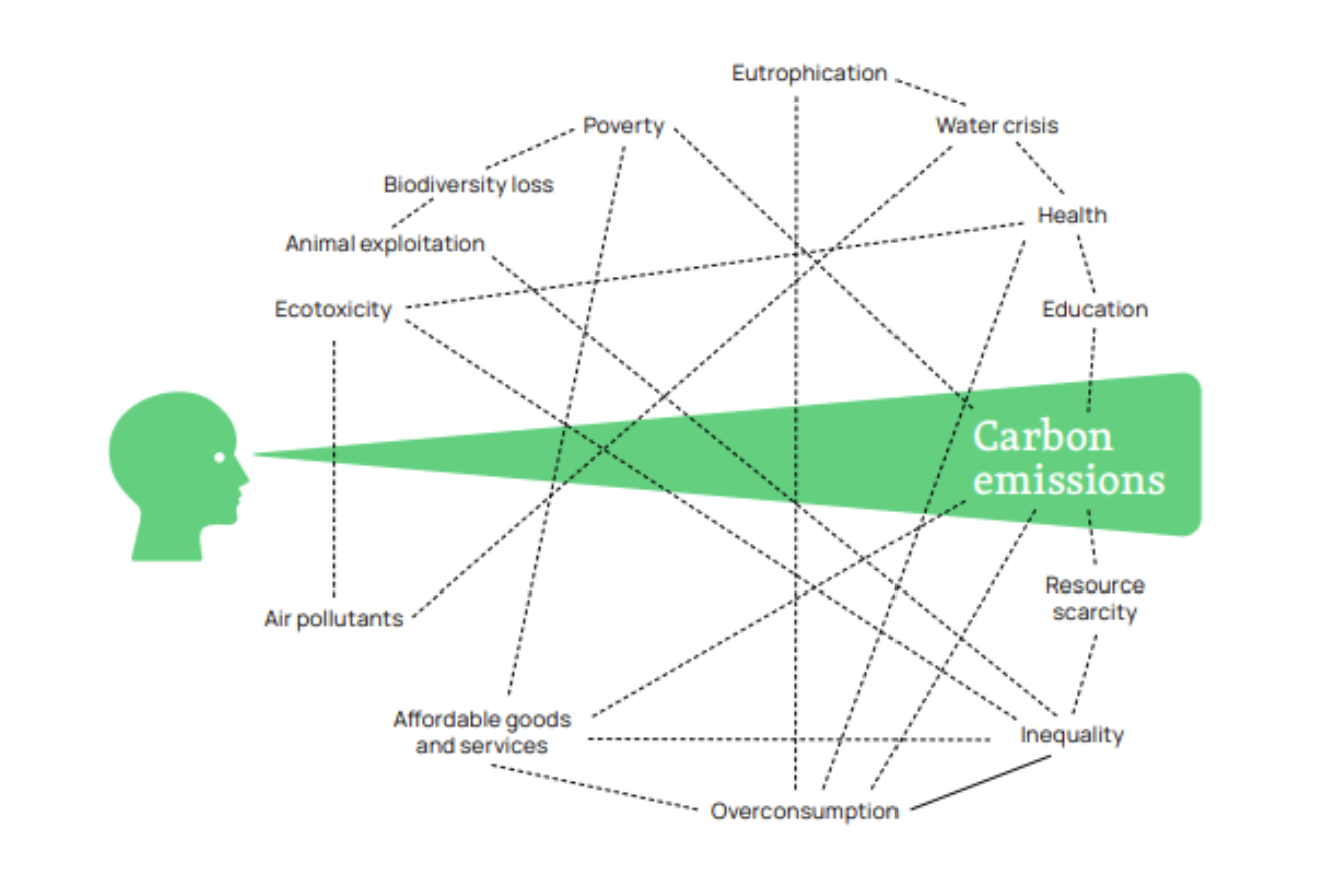 Ironically, much talk of sustainability and the environment lacks life. It lacks a connection to nature; to land, to insects, to animals, plants, and fungi, to who we are—the kind of connection which Indigenous communities have fostered and which we have, at best, ignored and fractured and, at worst, decimated. This is being remedied now, in large part by a growing chorus of young, Indigenous, Black and Brown people (often women) who are refusing status quo discussions of the environment which do not look at the whole. They recognise we don't just need lowered emissions and more protected lands: we need climate and environmental justice, the unpacking of environmental racism, neocolonialism, objectification of individuals, and a western view of environmental abundance as nothing more than a richness of resources for profitable extraction.
The hyper-capitalistic, human-led fall of our natural world is not just a loss of resources, it's a loss of life. And when we talk about life, we have to talk about ethics.