Good Clothes, Fair Pay aims for 1 million signatures from EU citizens to demand legislation on living wages in the fashion industry. Here's how to get involved.  
Good Clothes, Fair Pay launches in the EU
Millions of garment workers around the world aren't paid enough to cover their basic necessities—earning on average 45% less than they need to survive. A historic campaign recently launched to demand change.
Good Clothes, Fair Pay is a new European Citizens' Initiative (ECI) all about ensuring workers throughout fashion's global supply chains get paid living wages. The year-long campaign needs at least one million signatures from EU citizens to call on the European Commission to introduce legislation and bring the issue to the European Parliament for debate.
The initiative is led by a coalition of citizens, and supported by Fashion Revolution, NGOs, policymakers, and experts on living wages.
"For too long, brands have promised to do the right thing. They mostly haven't", says Kirsten Kossen in a statement, senior advisor on human rights at ASN Bank, which initiated the ECI. "We cannot wait any longer for voluntary measures."
For too long, brands have promised to do the right thing. They mostly haven't.

Kirsten Kossen – Senior Advisor on Human Rights at ASN Bank
Poverty wages are endemic to the fashion industry. This has led to a humanitarian crisis. Garment workers—the majority of whom are women of colour—put in gruelling hours and still struggle to put food on the table, afford suitable housing, access healthcare, or send their children to school.
"I became a textile worker when I was nine or ten years old. We were forced to work from 6am to 11pm", reads a statement from Nasreen Sheikh, founder of Empowerment Collective. "You don't feel human. You feel like a living machine forced to do the work."
The pandemic has only worsened the situation Sheikh describes, as hundreds of thousands of workers have been left unpaid for their work when major brands refused to pay for orders that were already completed. If enough EU citizens take a stand, this could change.
Calling for labour justice in the global fashion industry
Good Clothes, Fair Pay is the largest campaign of its kind in the bloc's history. It calls on legislation within Europe that would have global impacts. That's because the EU is one of the largest fashion markets in the world and the corporate home to some of the most profitable fast fashion brands including H&M, Zara, and many others—brands that have so far resisted changing their employment practices.
"Legislation is the way to hold brands legally accountable. Brands see themselves as buyers, but they are also joint employers with the suppliers", explains Wiranta Ginting, deputy international coordinator at Asia Floor Wage Alliance, in a campaign statement. "With that frame, we can hold them accountable to the labour standards."
Legislation is the way to hold brands legally accountable.

Wiranta Ginting – Deputy International Coordinator at Asia Floor Wage Alliance
The campaign is historic in its focus on labour justice—an element often left out of the conversation on sustainability and ethics in the fashion industry. Increasingly, governments are moving to legislate sustainability claims by brands, but these regulations have so far focused primarily on concerns around greenwashing and the industry's carbon impacts. Campaigners argue that this not only neglects protecting fundamental human rights for millions of workers—it's also at odds with new research suggesting that paying living wages is central to achieving environmental sustainability.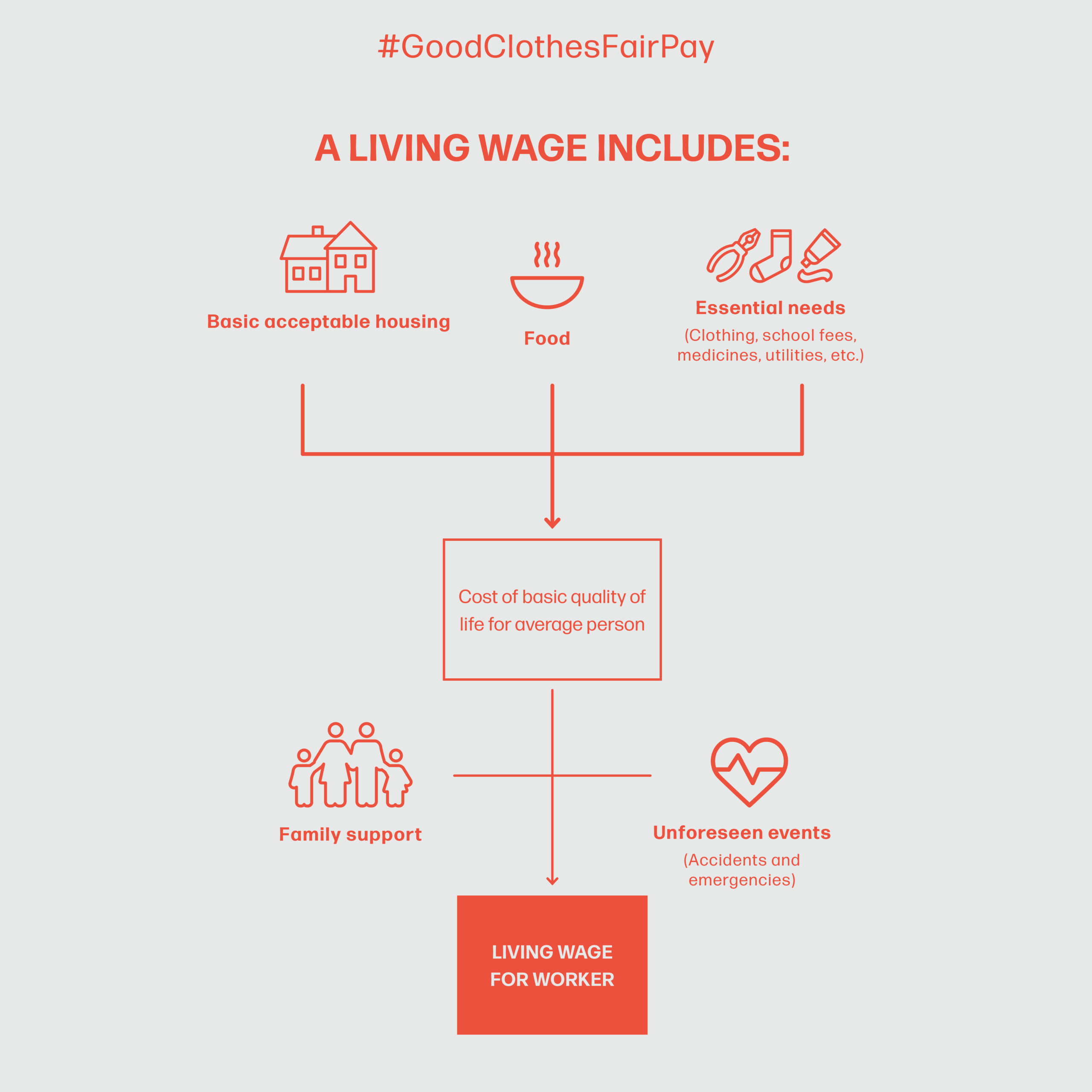 If legislation was successfully passed, brands and retailers could be legally required to assess wages in their own supply chains, put in place plans to close the gap between actual and living wages, and publicly disclose their progress.
"Specifically, the legislation must require clothing companies to conduct due diligence on living wages by doing the following", Fashion Revolution argued in its news release:
"Assess gaps between what workers in their supply chain are earning and what a living wage is using credible benchmarks for the regions they source from;
"Identify at-risk groups that are particularly hard hit by low wages, such as women and migrant workers, and ensure equal pay for equal work;
"Put in place a time-bound and target-bound plan to close the gap between actual wages and living wages in their supply chains; and
"Publicly share their progress to close the gap every year."
1 million signatures needed from EU citizens
In order for the Good Clothes, Fair Pay campaign to achieve its goals, 1 million EU citizens must sign. Then, the European Commission must respond to the successful ECI with an official communication and may ask for a debate in the European Parliament.
While delivering a successful ECI does not bind the European Commission to follow up with a legislative act, some ECIs gather momentum and achieve success over time, making this process imperative.
"As EU citizens, we have the power to change this and give garment workers a decent pay for their hard day's work", says Kossen. "For real industry-wide change, fashion companies need to be held accountable."
How to get involved
If you're an EU citizen, head over to Good Clothes, Fair Pay to sign. As of April 2023, more than 120k people have signed out of a million. With three months left, EU citizens can still add their names to the campaign.
But you don't have to be an EU citizen to get involved. No matter where you are in the world, you can help spread the word. You'll find ideas and more campaign materials on the official website.