We'd all love to be able to afford high-end, cruelty-free makeup every time we shop. Though in reality, sometimes we just have to settle for the cheaper options. The good news is, there are affordable alternatives that are just as good! We've compiled an extensive guide on how to keep a cruelty-free beauty routine that will suit your budget and your values.
Animal testing in the cosmetic industry has become a key concern for consumers in recent years. This has placed increasing pressure on makeup brands to become cruelty-free. In response, many beauty companies have released new vegan and cruelty-free product lines. From affordable drugstore brands to all-natural products you can make at home, Good On You has all your ethical makeup needs covered.
Who's leading the way on cruelty-free cosmetics?
When it comes to moving away from testing cosmetics on animals, Europe has been way out in front. Germany, for example, first banned animal testing way back in 1986 and in 2004 the ban was extended to the entire European Union (EU). Israel and India followed suit in 2007 and 2013, respectively. And in March 2013, the EU "took the landmark step of banning all cosmetics tested on animals anywhere in the world". It is also illegal now in Norway, New Zealand, and Taiwan, and Brazil is currently in the process of passing a bill to ban animal testing.
In Australia, legislation has recently outlawed the testing of cosmetics on animals, which is a really positive step. However, most brands still manufacture their products overseas, often in countries that have little to no animal welfare legislation. The United States is also considering a ban, "which would drastically diminish the market for any manufacturers still using animal testing".
Alarmingly, many popular cosmetic brands including Maybelline and MAC have a fuzzy stance when it comes to animal testing. They claim that they don't test any of their products or ingredients on animals. But loophole warning – exceptions are made if it is required by law for health and safety purposes. In short, if a cosmetic brand sells products in China, they do test on animals.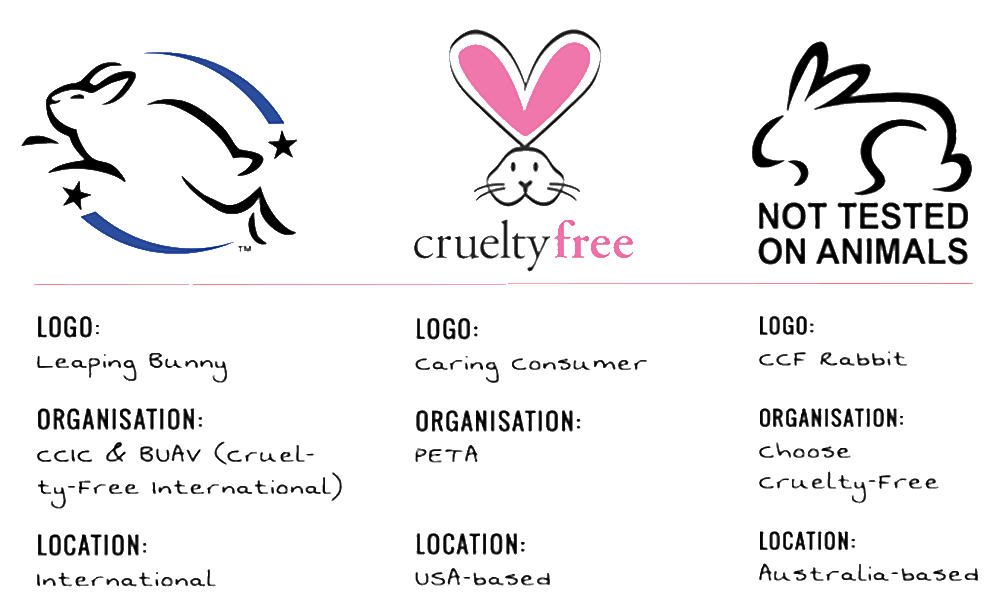 PETA and Leaping Bunny are great resources for those looking for cruelty-free and vegan brands. For Australian readers, Choose Cruelty-Free provides a list of Australian brands that do not practice animal testing. Brands that are certified cruelty-free by PETA, Leaping Bunny or Choose Cruelty-Free often use their bunny logos on the packaging. But beware of fake bunnies! Unscrupulous brands have been known to try and trick shoppers by adding bunnies to their bottles that have no connection to being cruelty-free.
Get to know your non-vegan ingredients!
When looking for vegan and cruelty-free makeup, it's important to look out for the following non-vegan ingredients:
Carmine a.k.a. cochineal, natural red 4, E120, and C.I. 75470 (made from crushed cochineal beetles to make red pigment used in nail polishes, lip products, blushes, and eyeliners)
Glycerine a.k.a. Glycerin, glycerol (sometimes derived from animal fats, sometimes used in soaps, haircare, makeup, and moisturisers)
Lanolin (a waxy substance in sheep's wool, often used in lip products and hair products)
Beeswax, apitoxin (bee venom), honey, bee pollen
Collagen (derived from animal tissue, bones or skin, used in many anti-ageing and lip-plumping products)
Lactic acid
Shellac (made from lac bugs, used in nail products and some hair lacquers)
Casein a.k.a. sodium caseinate or caseinate (derived from cow's milk, sometimes used in conditioning hair products and face treatments)
Elastin (protein extracted from the muscles, ligaments or aortas of animals, often used in anti-aging products)
Keratin (comes from the hair and horns of animals, often found in strengthening nail and hair products)
Stearic Acid (generally derived from pigs' stomachs, sometimes used in deodorants, soaps, hair products, and moisturisers)
Guanine (fish scales, often used in sparkly nail polish, bronzers, highlighters and blushes)
Oleic acid a.k.a. oleyl stearate, oleyl oleate or tallow (animal fat, sometimes used in nail polish, soap, moisturisers and make-up)
Squalene (shark liver oil extract, commonly used in lip balms, deodorant and moisturisers)
Animal hair (often used in makeup brushes and false eyelashes)
The following brands are either certified by Choose Cruelty-Free or are officially listed by PETA as a brand that does not practice animal testing.
Face
Primer
A good primer is every beauty enthusiast's makeup essential. The Pure Silk Skin Primer from Aussie cosmetic brand Innoxa is the perfect base for a flawless look. While not all their products are vegan, Innoxa doesn't test on animals, enforcing their slogan to 'first do no harm.' Infused with hyaluronic acid and avocado oil to help quench thirsty skin, Innoxa's Hydrating Primer is a great choice for those with dry skin.
For those on a tighter budget, the NYX Studio Perfect Photo-Loving Primer has been touted as a dupe for the more expensive Smashbox Photo Finish Primer. Although owned by L'Oreal, which does test on animals, NYX still stands by its no animal testing policy. It's up to you as an ethical consumer to decide which companies you want to support. Know that by purchasing cruelty-free products, you're indicating that consumers care about the ethics behind the products.
Foundation
Finding the perfect foundation is challenging enough without the added extras of price and ethics. Luckily we've put together a few of our favourite cruelty-free, vegan and affordable foundations and BB/CC creams to make the whole process a little bit easier.
Liquid foundation
Australis is an Australian-made, affordable drugstore brand that doesn't skimp on quality. They clearly label most of their vegan products, and the brand does not test on animals. Their Oh 2 Glow foundation allows you to build coverage to your liking and is perfect for those after an illuminating effect. For those wanting a more long-lasting liquid foundation, Australis' Stayput 16hr Foundation gives a medium-full coverage with a matte finish.
The NYX Total Control Drop Foundation has a whopping 24 shades available, which is good news for those who always struggle to find their perfect shade. With buildable coverage and a matte finish, this foundation is a lightweight formula perfect for everyday wear.
On the pricier side, Zuii Organic is made in Australia, 100% vegan and cruelty-free. They are also certified organic by The National Association for Sustainable Agriculture, Australia (NASAA) and Cosmetic Organic Standard (COSMOS), which requires a minimum of 95% certified organic ingredients. Their Certified Organic Flora Liquid Foundation contains aloe vera, vitamin E, and C to moisturise and soothe the skin, and provides a medium coverage with a silky finish.
At a similar price point, 100% PURE, an all-natural and cruelty-free cosmetic company based in Silicon Valley, has a range of makeup products coloured with fruit pigments rather than minerals or synthetic dyes, including a range of foundations.
Powder foundation
The Australis Fresh and Flawless Pressed Powder is a 2-in-1 foundation and pressed powder compact that can be used either on its own or over liquid foundation. The Body Shop All-in-One Face Base can be used as either a foundation or powder, and is easily blendable, has a smooth velvety finish, and has buildable coverage.
Free from talc, preservatives and fragrances, the 100% Pure Fruit Pigmented Foundation Powder is a super lightweight, all-natural product packed full of anti-aging vitamins, antioxidants, and skin purifying eucalyptus, soothing calendula, chamomile and role, oil absorbing rice powder, and fruit pigments.
Dedicated to making products enhanced with natural Australian ingredients that are free from synthetic ingredients or preservatives including talc, silicon, sulphates, phthalates, parabens and phenoxyethanol, Australian cosmetic brand Nude by Nature is 100% cruelty-free and PETA-certified. The Nude by Nature Loose Mineral Powder is a lightweight product that gives buildable light to medium coverage, and evens out and smooths the complexion.
Concealer
The Australis Bye Bye Blemish Concealer effectively covers up blemishes, under eye circles and any discolouration without looking cakey or unnatural. The 100% Pure Fruit Pigmented Brightening Concealer is made from all natural, 100% vegan ingredients including caffeine-rich green tea, green coffee, and anti-aging vitamins, antioxidants, and skin nourishing rosehip oil.
Natio's Young Tinted Spot Cream is a great option for those with acne-prone skin who want to cover and treat their spots at the same time. With turmeric to heal and orange oil to cleanse, your pores won't feel clogged with this two-in-one concealer option. Unfortunately, it only comes in one light-medium shade at this stage.
BB and CC creams
For a 'barely there' makeup look, BB or CC creams are great options. BB creams often fall in between tinted moisturisers and foundations. CC creams, on the other hand, are usually lighter on the skin and aim to even out skin tones. Andalou Naturals offers a range of fairtrade, cruelty-free, vegan products made from all-natural ingredients that are at least 70% certified organic. Their BB Cream and CC cream complement most skin tones and offer SPF30 sun protection. They contain hydrating ingredients including rosehip oil, jojoba and pomegranate oil.
For an even cheaper option, NYX offers a BB cream with an oil-free formula, perfect for those with oily/combination skin who still want a product that keeps the skin hydrated.
Setting sprays and powders
Setting products are another beauty essential that does wonders. They give your makeup that flawless finish and helps it stay intact all day long. The NYX Dewy Finish Setting Spray gives your face a beautiful healthy glow and sets your makeup in place. Those with an oilier complexion might prefer to use the NYX Matte Finish Setting Spray.
The Innoxa Anti-Aging Makeup Setting Spray is great for those with sensitive skin and contains hydrating aloe vera, algae, and cucumber extracts. The Australis Ready Set Go! Translucent Finishing Powder DIY Finishing Powder sets and improves the wear of your foundation. It softens and blurs the appearance of imperfections and fine lines.
For a more natural alternative, you can make a DIY setting powder by combining arrowroot flour and cocoa powder or cinnamon!
Eyes
Eyeshadow
Before you go out on a whim and blow a good chunk of your paycheck on the latest eyeshadow palette that everyone's been raving about, take a deep breath and consider your other options.
e.l.f. offer a huge range of super affordable vegan makeup – most products will only set you back USD$1 to $5! They make a huge range of beautiful eyeshadow palettes that will be sure to satisfy any ethical beauty enthusiast. The e.l.f. Rose Gold Eyeshadow Palette is a great alternative to the Urban Decay Naked 3 palette, which is eight times the price!
NYX not only have a fantastic range of eyeshadow palettes, they also offer customisable palettes. Never again will you have to deal with your least favourite shades when you reach the end of a palette! The Body Shop also has refillable eyeshadow cases which cut down on waste and let you keep all your favourite shades in one place.
If you want to spend a bit more on some high quality, super pigmented eyeshadows, Zuii Organics offer a range of talc-free and certified organic eyeshadows enriched with natural vitamins and minerals. They clearly label their vegan shades.
Mascara
Say goodbye to panda eyes! Using a special smudge-proof formula made from 100% vegan ingredients, Australis' Eyegasm Waterproof Mascara creates thicker, darker lashes that last all day long.
The Pacifica Aquarian Gaze Water-Resistant Long Lash Mineral Mascara is infused with coconut oil, kelp extract and vitamin B, which moisturises, lengthens and strengthens lashes. Pacifica is a 100% cruelty-free and vegan beauty brand whose products are free from nasty ingredients such as phthalates, parabens, sulphates, propylene glycol, mineral oil, petroleum, peanut oil, and triclosan.
The Zuii Certified Organic Vegan Flora Mascara is perfect for those with sensitive eyes and is enriched with certified organic carnauba wax and a unique blend of certified organic nettle and horsetail extracts to condition, nourish and regenerate your lashes. Feeling a bit experimental? Why not try to make your own all-natural mascara?
Eyeliner
NYX offers a huge range of eyeliners of both the pencil and liquid variety in a range of colours to suit any occasion or personality. However, some liners are not vegan – keep an eye out in the ingredients list for carmine, which is a red pigment made from crushed up cochineal beetles (yuck!)
For those of us who struggle with drawing the perfect winged eyeliner with a flimsy brush applicator, the Australis Tiny Tip Eyeliner Pen is the perfect solution. Waterproof and pigmented, the no-mess pen tip allows for precision every time. The 100% PURE Long Last Liquid Eyeliner, while on the pricier side, is pigmented with crushed black tea leaves instead of harsh synthetic dyes. It is made with vegan ingredients and is both smudge-proof and water-resistant, staying in place all day long.
Brows
If you've been paying the slightest bit of attention to the beauty scene recently, you'd know the importance of brows.
The NYX Tame & Frame Brow Pomade is more affordable than the Anastasia Beverly Hills Dipbrow Pomade and is an easy-to-use product that lets you create defined but natural looking brows. Another popular dupe is the Chi Chi Brow Pomade which comes in a large range of colours and is available in Myer and Target.
The e.l.f. Eyebrow Kit is a great way to create natural-looking brows. The pigmented wax defines and shapes your brows, while the setting powder fills them to last all day long. Creamy, blendable and precise, the Australis Eyebrow Pencil will ensure that your brows will always be on point.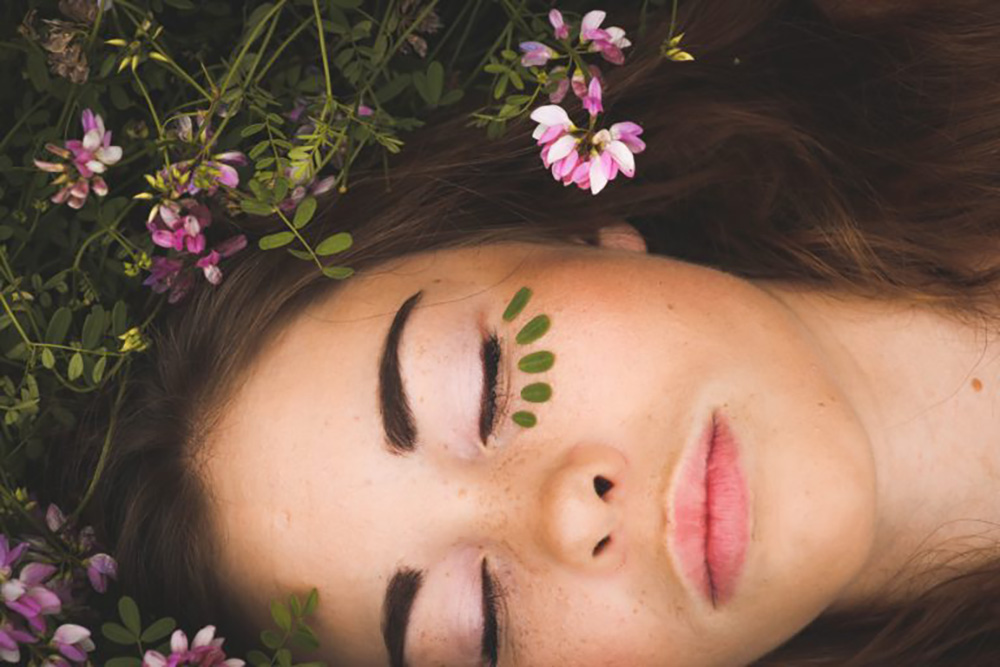 Cheeks
Blush
100% PURE's large range of powder blushes and cheek tints are great for adding a touch of colour to your face. While the powder blushes are all vegan, the lip and cheek tints contain beeswax.
While not all of their products are vegan, Physicians Formula is a 100% cruelty-free cosmetic brand whose gentle, non-comedogenic and non-irritating formulas are great for all skin types, particularly those with sensitive skin. The Physicians Formula Argan Wear Ultra Nourishing Argan Oil Blush is super lightweight and hydrating, giving your cheeks a youthful and luminous glow [Note: Australians can purchase Physicians Formula at Priceline Pharmacies].
Highlighter
Forget diamonds – a good highlighter is a girl's best friend! The Samantha Jade for Models Prefer Strobing Palette is the most versatile highlighting kit for all skin colours and occasions. The palette has a range of pigmented colours including pink champagne, gold, and even a beautiful shimmery purple!
Infused with Vitamin E and jojoba, rosehip, sunflower and grape oils, the e.l.f. Baked Highlighter will nourish your skin and give it a healthy glow. The 100% vegan and cruelty-free Australis Illuminating Strobe Powder is easy to blend and is perfect for those wanting to accentuate their features and give their skin a beautiful and luminous touch.
Bronzer
The 100% cruelty-free and vegan Physicians Formula Bronze Booster Glow-Boosting Airbrushing Bronzing Veil Deluxe combines the best features of powder, baked and cream bronzers to produce a skin-perfecting finish and a natural, sun-kissed glow that suits most skin types.
The Body Shop Baked to Last Bronzer will give your face a natural glow with a subtle shimmer. Handmade and baked on terracotta, 100% vegan, and containing hydrating Community Fair Trade olive oil, and Community Fair Trade marula oil, the marbled colours of the bronzer can be used in a number of ways, including contouring, highlighting and as a blush.
Contour
The AC On Tour Contouring & Highlighting Palette from Australis is the perfect tool for defining and shaping your features like a pro. Australis also offer a cream contour palette or a mixed palette with both cream and powder shades for the best of both worlds! The NYX Wonder Stick truly lives up to its name – the super creamy highlighting and contouring duo blends beautifully, and comes in a range of shades to suit any skin tone.
Lips
Lipstick
Even among cruelty-free brands, it can be difficult to find a vegan lipstick. Lots of lipsticks contain beeswax or lanolin (the oil found in sheep's wool). Most red lipsticks actually get their colour from carmine. For those who shudder at the idea of smearing dead bugs all over their lips, the Pacifica Devocean Natural Lipstick is a highly pigmented, 100% vegan lipstick. It's made from natural and hydrating ingredients including coconut oil, Shea butter, jojoba esters and vitamin E. As a bonus it can also double as a cheek stain!
Lush are renowned around the world for their beautiful range of cruelty-free cosmetics. From bath bombs to bath oils, soaps, scrubs, face masks, lotions, and gels. They are all made from mostly natural and organic ingredients leaving skin looking and smelling amazing. Lush also offers a range of vegan liquid lipsticks made from natural ingredients including jojoba oil, candelilla wax, and rose oil.
For those who prefer a more satin finish than a matte finish, Zuzu Luxe makes a range of lipsticks that are 100% vegan, cruelty-free and made from natural ingredients. These also include jojoba oil and candelilla wax, along with sesame seed oil, and St. John's Wort.
For a huge range of lip colours in various finishes, the super affordable cruelty-free brand ColourPop has got you covered. Most of their products are vegan, but they handily provide a list of non-vegan products in their FAQs. Be sure to check out their popular Super Shock Shadows too.
Lip gloss
Australis' Velourlips Matte Lip Cream comes in a range of shades and provides highly pigmented and long-lasting lip colour that won't flake off. 100% PURE also offers a range of natural lip glosses. They are made with Vitamin E from organic rice bran and beautiful colours from fruit pigments.
Lip liner
Australis Lip Liner Pencils are vegan-friendly, cruelty-free and come in a range of colours. They contain moisturising Vitamin E and anti-oxidant Vitamin C for the perfect pout every time.
Makeup remover
Those single-use makeup removal wipes might be convenient, but did you know that they are terrible for the environment and your skin? Most face wipes are actually made from plastic, meaning they don't break down for years, end up littering our oceans and clogging up drains. Luckily, there are a number of alternatives that are free from toxic chemicals and kinder to the environment. Take out a good old-fashioned flannel or face washer and try one of these ethical products.
Products from Californian beauty brand Yes To contain at least 95% natural ingredients and are 100% cruelty-free. They are also free of parabens, petroleum, phthalates, and SLS, and made with recyclable materials. If you can't do away with the convenience of face wipes, Yes To offer a range of biodegradable face wipes. They are made from Forest Stewardship Council-certified wood, meaning it has been sustainably harvested.
The Mario Badescu Cleansing Milk is infused with antioxidant-rich rice and carnation oils, leaving skin soft, nourished and makeup-free. All without stripping its natural oils! Unlike what its name suggests, this product is 100% cruelty-free and vegan.
Infused with gentle aloe vera, chamomile, and cucumber extracts, the Sukin Micellar Cleansing Water thoroughly removes makeup (waterproof included!). It also targets dirt build-up, leaving skin hydrated and clean. You can also use plain old organic coconut oil to remove your makeup! This isn't recommended for those prone to breakouts but is a great natural alternative otherwise. It leaves skin hydrated, soft and more youthful looking.
Brushes
While makeup brushes can be expensive, it's worth investing in good quality products that will last a lifetime. Ecotools is a leader in eco-conscious beauty products. They offer a range of beautifully soft, 100% cruelty-free and vegan cosmetic brushes with bamboo handles.
The Body Shop also makes a range of vegan and cruelty-free makeup brushes. They are made from super-soft, charcoal-coated synthetic bristles and sustainably sourced, Forest Stewardship Council-certified wooden handles. On the cheaper end, Designer Brands is an Australian brand that offers a fantastic 7 Piece Professional Brush Set that is 100% vegan. It contains all the tools you need to easily create any makeup look.
Nail polish
With a range of 12 colours that vary seasonally, Australian cosmetic brand Paint Nail Lacquer is dedicated to ethical and sustainable practice. Their polishes are 100% vegan, cruelty-free, and free of formaldehyde, dibutyl phthalate (DBP), toluene and camphor.
Mineral Fusion offers a range of affordable and vegan-friendly nail polishes and removers. The beauty brand is certified cruelty-free by the Leaping Bunny and verified by the Environmental Working Group (EWG). This shows that they avoid EWG's ingredients of concern, have good manufacturing processes and are fully transparent.
e.l.f. cosmetics offer a range of vegan, cruelty-free and super affordable nail polishes. The polish is free of toluene, formaldehyde, and DBP, and infused with Vitamin E to keep nails strong and hydrated.
Buy better, buy less
Ultimately, we at Good On You recommend that the best way to save money on cosmetics is to buy only what you need. It can be tempting to have twenty different shades of eyeshadow and a dozen lipsticks. It's important to remember in reality, most of these end up unused and eventually in landfill. Investing in ethically-made, high-quality products is not only good for the earth, but for your body and bank account. And check out our article on how you can recycle your old cosmetics!
You might also like to check out our Ultimate Guide to Cruelty-Free Hair & Skincare on a Budget. We look at affordable vegan skincare, haircare, fragrance and toiletry brands, plus all-natural products to make at home. Do you have a favourite cruelty-free makeup brand? Let us know in the comments below!